At RoadBotics, we're always searching for ways to improve our services.  Back in September, we introduced new measurement tools, one to measure the area and the other for distance. Today, we're announcing our latest updates to RoadWay.
The platform includes a new settings page, a new window layout, and a screenshot tool. These updates allow you to customize your RoadWay platform further and help improve user experience.
Users now have access to a settings page. This creates additional space for content and new capabilities on the RoadWay platform. With this feature, users can create a personalized username and establish default settings for their specific credentials.
For example, individuals with color vision deficiencies, such as red-green color blindness, are able to adjust the color mode to suit their needs.
After saving the settings, the user has a customized view of RoadWay.
Experience the New Window Layout
In addition to personalizing your settings, users can also enjoy an improved user experience on RoadWay. For example, when clicking on the point level imagery, the window layout is easier to understand.
The road rating is now centered over the image. 
The commands to enlarge the images are emphasized with buttons. 
The timestamp has been simplified.
The geographic coordinates have been replaced with an accurate street address.
Need it for later? Screenshot it!
Perhaps the most significant addition to RoadWay is the screenshot tool.
Whether you want to capture your entire road network or zoom in close to capture a small area of the map, the screenshot tool allows you to easily print or download your pictures.
After making a measurement of an intersection, you can capture the aerial view, point level imagery, and square yardage all in one image. By attaching such an image to a work order, your crews have more information while working in the field.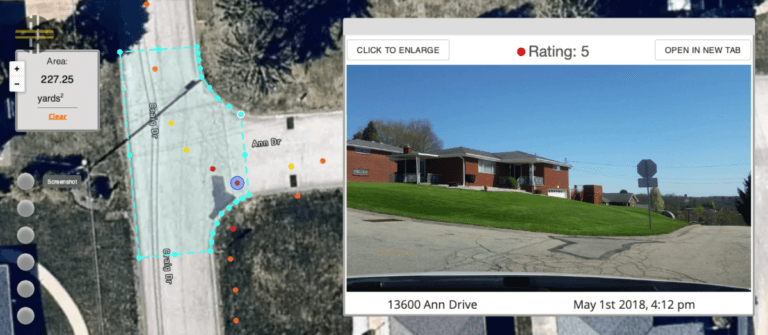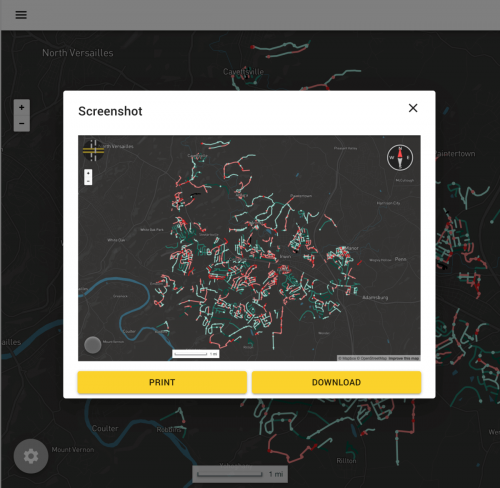 Further information on updates to the RoadWay platform can be found in the new notification center. When the bell is highlighted orange, click it and find content related to each update.
We have more changes coming to RoadWay, so be sure to check back for the latest news. You can also follow us on our socials!