If you're not an engineer or construction specialist, it can be hard to distinguish between the many roads distresses. Our series, Distress Call, will help you identify between the various classes of distresses. Today, let's talk about water bleeding.
Water is asphalt's kryptonite. 
Water bleeds are usually localized as if it rained only on a small section of the road. This type of damage is not as common as the other road distresses in our Distress Call series, but it is just as important. 
When you come across this problem, you'll notice a distinct difference in the road quality. Similar to raveling, the bleeding sticks to your tires and damages them over time. In civil engineering, water bleeding is considered a failure because it indicates that the initial work wasn't done correctly.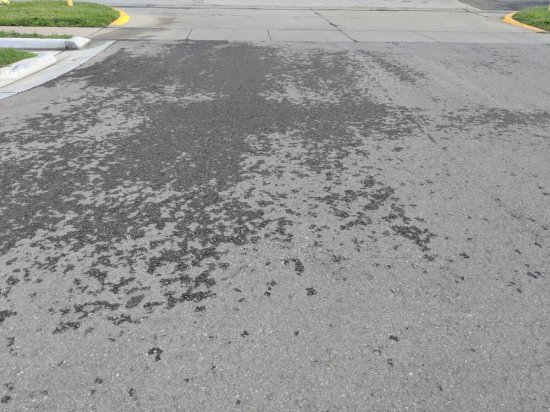 This may leave you wondering, how did it come to this? Let's break it down. 
One of the factors that can cause water bleeding is a high water table. This occurs when groundwater levels rise to the road's level. Water then seeps through the surface, as shown in the image below.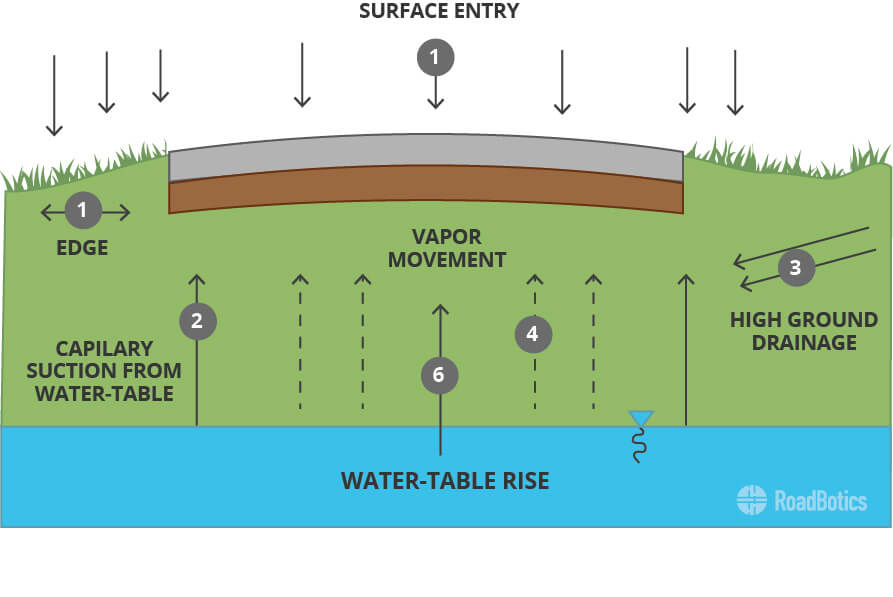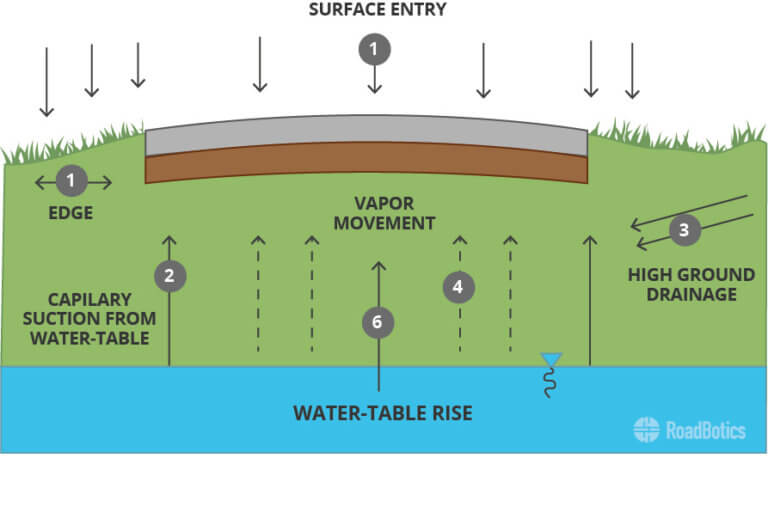 Another factor is due to poor subgrade drainage. The subgrade is the soil below the road. If the subgrade is not draining well, then the water stays in the pavement layer. This should not be overlooked when constructing the road.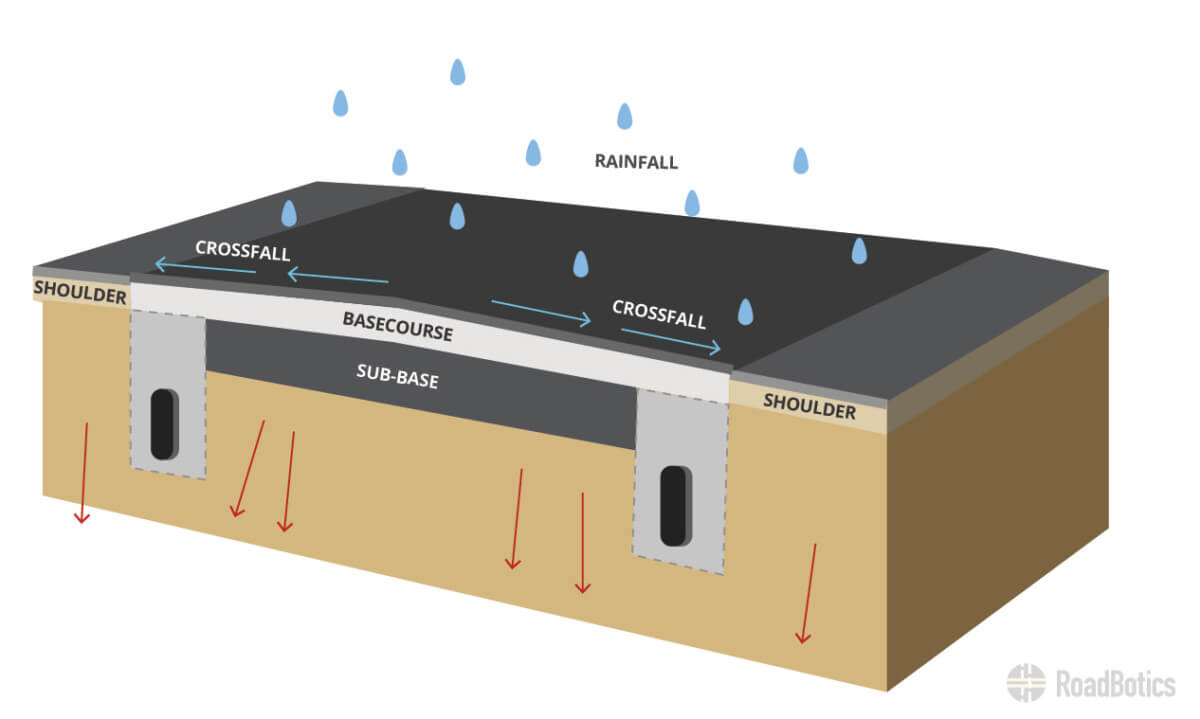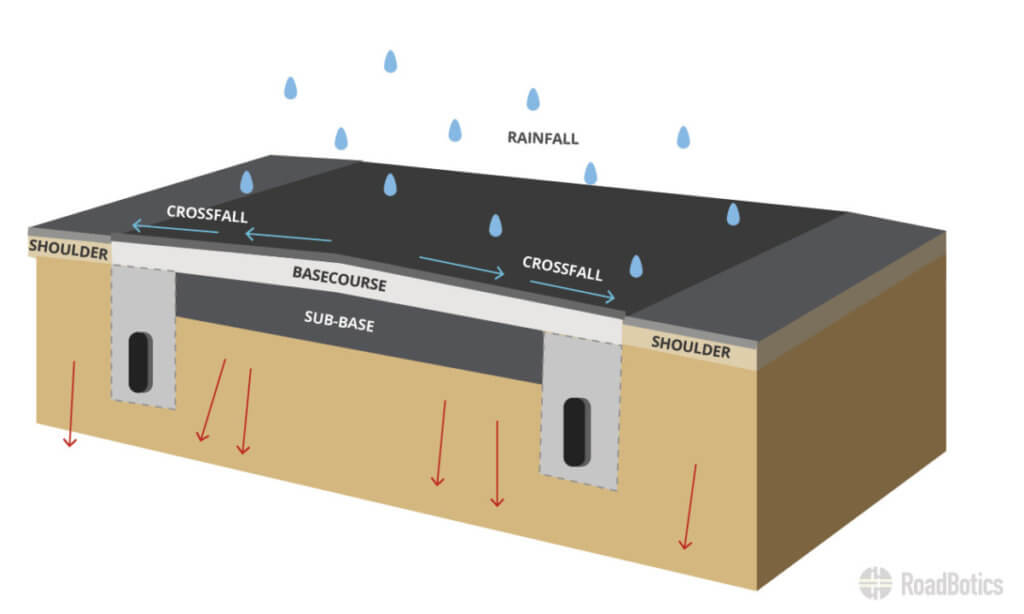 Experts will also consider two other factors: an excessively porous asphalt surface and the presence of cracks or joints. On a porous surface, water can slip in through those pores and gradually develop bleeding. With the presence of cracks or joints, the asphalt is more susceptible to degradation.
Fortunately, there are solutions to these problems. 
Knowing what prompted the bleeding is the key to the solution. If the water bleeding occurs at cracks or joints, you should apply a waterproof sealant. If the water bleeding occurs on a porous asphalt surface, use a fog seal or slurry seal to prevent water from entering or seeping through the surface.
Bleeding is preventable. Construction crews must pay close attention to the aggregate mix and apply adequate compaction to ensure that the asphalt is not excessively porous. They should also check that appropriate subgrade drainage is incorporated into the pavement design.
Did you know that most municipalities only assess their roads visually every few years? The assessments they've done in the past were likely tedious, expensive, and quite subjective. They may not be aware of new distresses in their road network.
RoadBotics is an excellent alternative to this current system. We deliver objective, affordable data-driven assessments for municipalities of all sizes. Hear what our customers across the globe have to say.