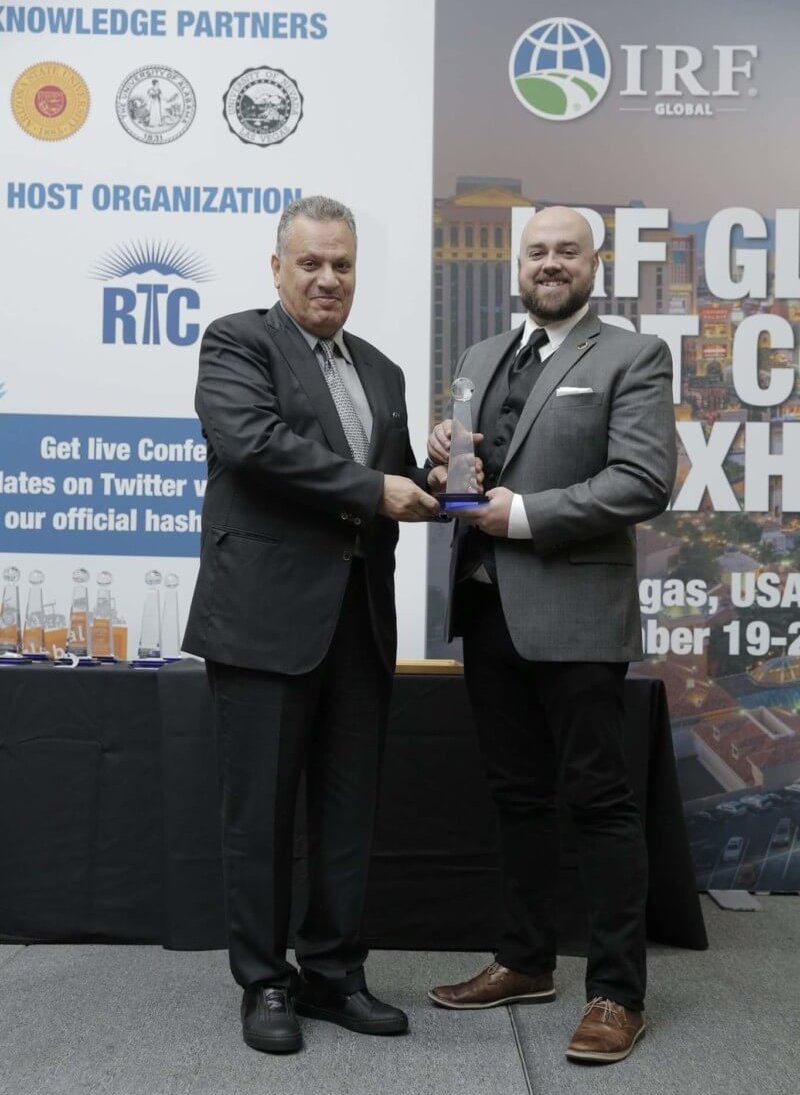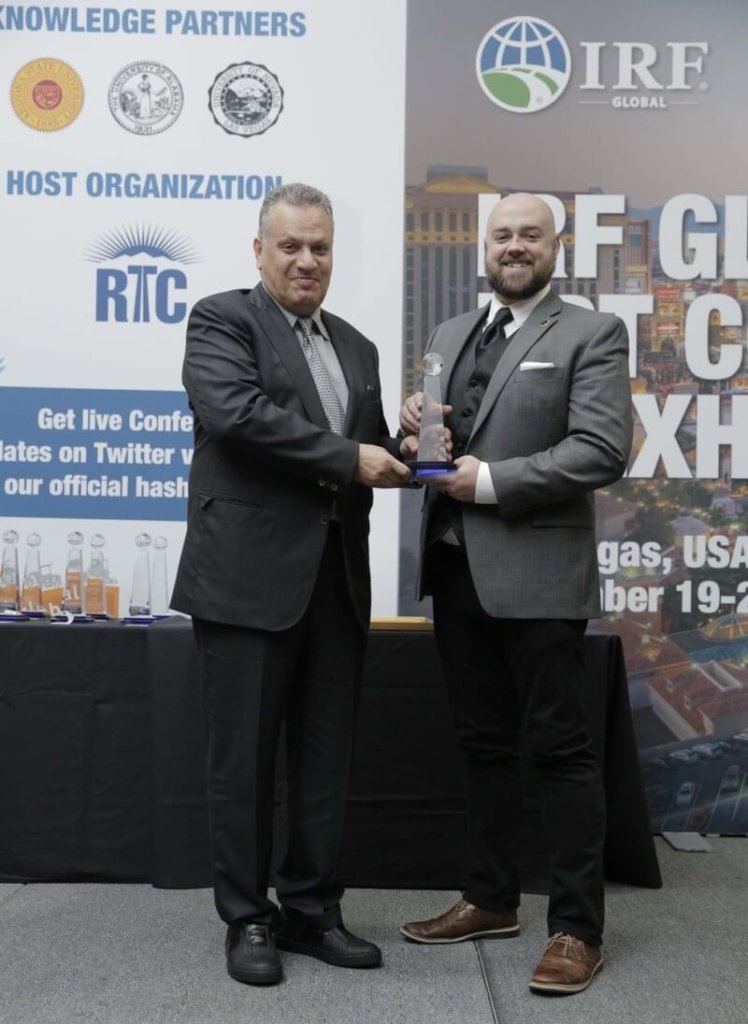 Pittsburgh, PA, NOVEMBER 19, 2019 – RoadBotics attended, presented, and accepted a Global Achievement Award at the 2019 International Road Federation (IRF) Global R2T Conference & Exhibition in Las Vegas, Nevada. In addition, RoadBotics' President Benjamin Schmidt, PhD, was elected to their Board. The event was held November 19-22 and was attended by 500 people from 50 countries.
Dr. Schmidt was one of over 150 speakers to present. He reviewed the evolution of pavement assessment and data collection at the session on Artificial Intelligence for Highway Design & Management. Other speakers at his session included Craig Milligan, CEO of Fireseeds North; Terry Bills, Director of Transportation of ESRI; Roberto Perez, Vice President of Parson Corporation; and Antonio Macedo, Director of Transportation of LNEC.
"It was a pleasure to present with the other speakers and share the significance of artificial intelligence and road infrastructure. We appreciated seeing up close how other institutions and companies are using this kind of technology to improve road and highway management," said Dr. Schmidt.
RoadBotics also took home an IRF Global Road Achievement Award in the Asset Preservation & Maintenance Management category for RoadWay. This accessible online platform for municipalities visualizes their entire road network and helps them prioritize maintenance.
"I'm very grateful to the International Road Federation for this award. RoadBotics is on a mission to help governments maintain their infrastructure. Moments like these remind us we're one step closer to our goal,"  Dr. Schmidt said during his acceptance speech.
Finally, Dr. Schmidt was one of seven elected to the IRF Board of Directors during the conference. The Board meets once a year to provide guidance for IRF's activities and vision.
RoadBotics plans to participate in future mobility conferences to share the value of objective data to municipalities everywhere.
About IRF R2T Conference:
R2T is the international meeting point for industry innovators, researchers, and stakeholders to engage with engineers and businesses to improve the world's infrastructure. The IRF Global R2T conference covers a broad range of topics, such as innovative materials and technology, asset management, and pavement preservation.
About IRF:
The International Road Federation is a global not-for-profit organization. Headquartered in Washington, DC, since 1948, the IRF is supported by regional offices throughout the world. It serves a network of public and private sector members in more than 70 countries by providing world-class knowledge resources, advocacy services, and continuing education programs which together offer a global marketplace for best practices and industry solutions.
About RoadBotics: 
RoadBotics empowers cities to assess roads using artificial intelligence. We automate inspections and generate objective, actionable data about road networks. Our detailed maps, unbiased ratings, and practical tools save time and taxpayer dollars for over 180 governments across the country and around the world. RoadBotics was spun out of Pittsburgh's Carnegie Mellon's Robotics Institute in 2016 and has raised $11.4M in venture capital investment to date. We envision applying our technology to not only improve the world's roads, but also the critical infrastructure that impacts people's lives every day.