The Embedded Maps function on RoadWay allows you to share an interactive map of your road network with the public. This can be a great way to increase transparency with citizens because it illustrates recent maintenance initiatives and future pavement planning. 
With this function, you can easily generate a few lines of code that can be copied and pasted into any web page.
Log in to RoadWay and access the Administration page. 
Select the new 'Embedded Maps' tab.
From this tab, you can create an embedded map and view previously created maps. 
Select the yellow '+Create Embedded Map' button.
You can use the Embedded Map Wizard to customize the map you will share.
After naming the map, you can select: 
Level of data you'd like to share

Layout of map (Dark is the standard RoadWay setting)

Assessment date

Visible layers – point and/or segment ratings

Point: Granular data every ten feet

Segment: High level data from intersection to intersection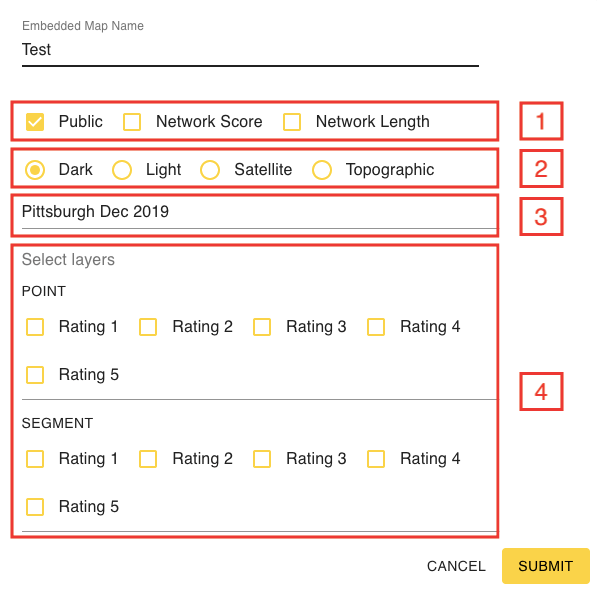 Finally, click 'Submit', and the code for your map will be generated.
Ways to Customize Your Map
The 'Select layers' customization gives you the option to show all or portions of the network rating score. Here are a few scenarios to consider when customizing your map: 
Showcase recent paving by selecting the best roads (Rating 1)

Show roads that are upcoming paving priorities by selecting the worst ones

(Ratings 4 and 5)

Select roads with Ratings 2 and 3 to describe your preventative maintenance plan
The preview shows you exactly what the map will look like once it's embedded. And yes, and it is fully interactive, including point-level road images and ratings!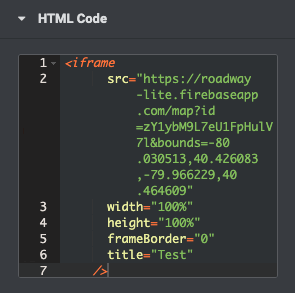 To add the map to your website, simply copy the code and paste it into the HTML editor. When you are finished embedding the map, select 'Done' and your saved map will appear under the 'Embedded Maps' tab on the Administration page.
Finally, the interactive map will appear on your governmental website for your citizens to view. 
Now that you know the step by step process for embedding your network map, watch the latest episode of RoadWay User Tips with Todd with RoadBotics' Product Manager, Todd Saulle: