Public spaces are imperative to a healthy society. They play a vital role in connecting and bringing people together. Restrictions related to COVID-19 have undoubtedly changed the interactions in public spaces. Vehicular traffic has decreased while, in most places, the number of pedestrians, joggers, and cyclists has increased as folks venture outdoors for physical and mental health benefits.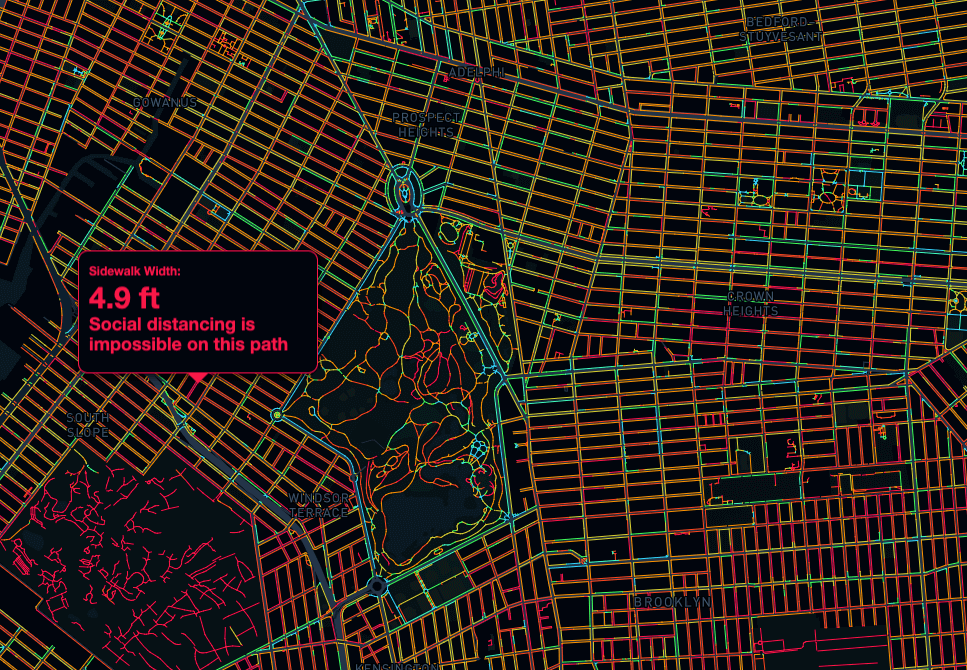 Individuals coming in close proximity to one another on sidewalks near roads, essential shopping centers, and in parks pose a problem. Most sidewalks have a typical width of five feet, and as Sidewalk Labs depicts in New York City, are not passable by social distancing standards.
Luckily, a growing number of cities recognize the need to adapt their public space infrastructure to accommodate to the new norm. Miles of open and slow streets, cycle lanes, and pop-up infrastructure have surfaced around the world, giving priority to pedestrians and cyclists while limiting vehicle traffic.
Open Streets, a movement dating back to 2011, promotes the closure of pavement to vehicular traffic for pedestrian use. Typically Open Street events last a few hours and happen a few times a year. Now, cities are temporarily closing pavement to vehicles for weeks to months.
In May, New York City closed 40 miles of streets to vehicles near parks and crowded public spaces. This is part of a larger plan that will roll out over the summer months to keep the public safe while the weather is nice. Ultimately, the city is looking to transform 100 miles into temporary Open Streets.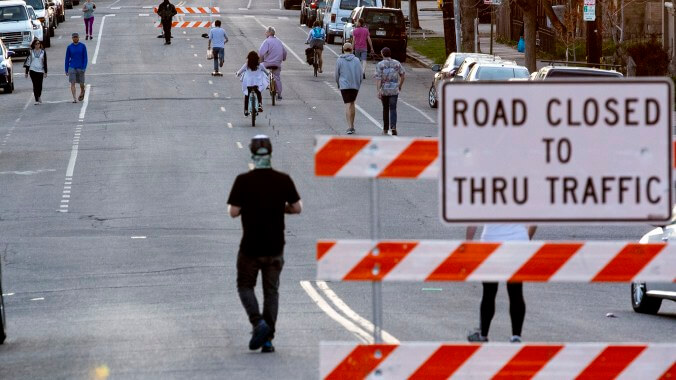 Similarly, Slow Streets restrict through traffic and reduce speed limits to slow vehicle congestion giving pedestrians and cyclists priority. The Mayor of Oakland, California, developed 'Oakland Slow Streets,' closing 74 miles of their road network to through traffic to promote walking, cycling, and ADA accessibility. Columbus, Denver, Buffalo, Nashville, Seattle, and Boston are just a handful of cities who have joined in. 
Open and Slow Street infrastructure is being established around the United States as a simple, low-cost public space solution to ensure the safety of individuals exercising outside.
Public space infrastructure is literally popping up overnight, mostly in the form of cycle lanes. Cities acknowledge the need to offer another mode of transportation with the return of people commuting to and from work using public transportation. Thousands of miles of cycle lanes have been built supporting the current surge in cycling, and cyclists everywhere are reaping the benefits.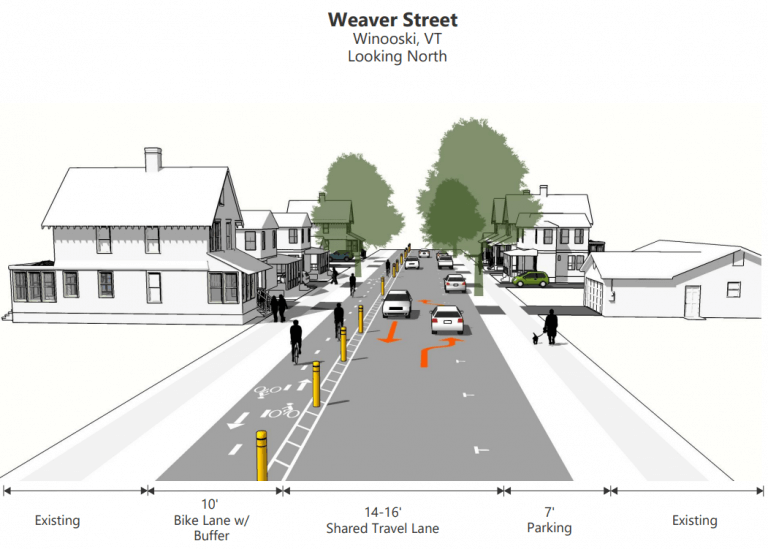 Berlin, Germany, has added pop-up infrastructure, also referred to as 'tactical urbanism', to create bike lanes by reducing the number of car lanes, narrowing streets, and removing parking. Temporary parking lanes were even created to protect citizens traveling in the cycling lanes from motorists.
Bogota, Columbia, reconfigured 13 miles of their road network overnight to expand their existing 340 mile cycle network, and Paris, France, created 400 miles of emergency bike lanes in time for their reopening on May 11.
While most open streets, slow streets, and pop-up infrastructure will likely be removed and reverted back to their traditional use after the COVID-19 crisis has subsided, the unprecedented situation has presented cities with a unique opportunity to pilot permanent changes.
The Future of Public Space
Some cities were already planning to change their public space infrastructure, and the pandemic is acting as a catalyst to push policy and implement those changes. In this context, cities have the opportunity to fast-track the implementation of their efforts to improve infrastructure and reduce air pollution while maintaining the health and safety of citizens.

Starting this summer, Milan, Italy, is converting 22 miles of streets to prioritize cycling and walking by adding cycling lanes, removing car lanes, and reducing the speed limit. Milan has been trying to reduce vehicle traffic for years, and after seeing air pollution drop 30-70% during COVID-19 restrictions, they are earnestly trying to prevent a resurgence of vehicle use.
Liverpool, England, recently passed a $2.4 million bill to build 62 miles of permanent cycle lanes to connect neighborhoods to the city center. Paris, France, is constructing 400 miles of pop-up cycle lanes as a pilot in their efforts to make all streets bike-friendly by 2024.
Uniquely, this low traffic time has created opportunities for cities to pilot large public infrastructure changes. Prior to making these changes, it is prudent to assess the condition of roads and sidewalks with tools like RoadWay, develop pavement management plans, and then implement data-driven maintenance measures in conjunction with public space improvements.