What is a Natural Disaster?
Natural disasters are events that occur from Earth's geologic processes. The intersection of natural disasters with civilization often results in significant damage to the environment, buildings, infrastructure, and worse, loss of human life. 
The level of devastation cannot be fully understood until after natural disasters strike.
Predictive scientific modeling based on weather phenomena can help us predict when and where a natural disaster may occur, estimating its magnitude, direction, and path. Officials can use this information to determine the best strategy for keeping citizens safe.
But what if predictive modeling could be combined with existing imagery data to aid in disaster recovery by revealing what infrastructure assets might be affected by the event?
RoadBotics' AgileMapper (formerly Image Logger) captures and creates an image inventory of public infrastructure assets from the perspective of roads, sidewalks, or trails. It also includes adjacent assets such as utility poles, street lights, and manhole covers.
Existing imagery data, as captured through AgileMapper technology, can reveal which assets are in the predicted path of the natural disaster. 
Officials can use both data sets to determine, for example, which communities will be affected by a power outage if the disaster stays on the predicted path to likely damage the main power line. 
Additionally, if conditions are safe during the aftermath of a natural disaster, officials can collect AgileMapper data to understand which areas were impacted the most.
Let's look at how AgileMapper can be used to predict and recover from landslides, volcanoes, and other natural disasters.
According to the U.S. Geological Survey (USGS), landslides are defined by movement of the ground, "mass of rock, debris, or earth, down a slope", in accordance with gravity. Each landslide has multiple causes and can be triggered by other natural disasters such as excessive rainfall, volcanic activity, or an earthquake. 
Especially in hilly or mountainous areas, early indicators of ground movement can include:
Pavement cracks that run parallel to centerline then curve toward the end of pavement

Guardrail movement or deformation

Retaining walls bowing, tilting, or bulging 

Debris on road

Water puddling indicating drainage issues

Tree movement or trunk growth changing direction over time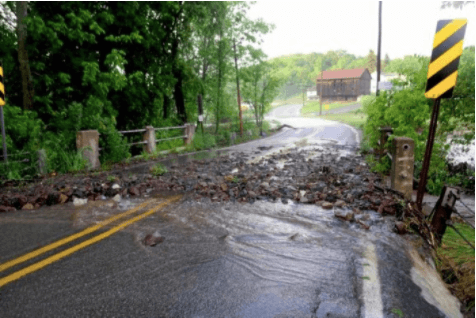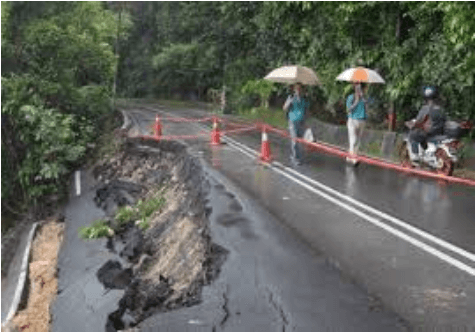 Dr. Christoph Mertz, RoadBotics' Chief Scientist and Researcher at Carnegie Mellon University's Metro21, is doing extensive research on landslide modeling and timescales. 
These images depict earth movement visible from road imagery data he collected in Pittsburgh, PA, that resulted in a landslide and pavement failure:
Over seven months, as the earth next to the road began to collapse, the crack in the pavement became deeper until the landslide caused that piece of pavement to completely separate from the road. 
How can AgileMapper help? AgileMapper data can capture pavement cracking, along with the other aforementioned early indicators of earth movement, to help shed light on roads and infrastructure that could be affected by landslide activity.
Volcanoes are natural disasters unlike any other. Lava's path of destruction leaves everything in its wake obsolete. However, without them, we would not have some of our most treasured destinations like the Hawaiian archipelago. 
Lava is not a fast moving enemy, yet Mount Vesuvius' eruption in 79 AD froze the City of Pompeii in time. Around the world there are currently 1,500 potentially active volcanoes and nearly 170 in the United States, making it essential for officials to understand and monitor the possible hazards.
The USGS and Hawaiian Volcano Observatory (HVO) vigilantly monitor volcanic activity. Due to the near constant threat of eruption, the HVO and Hawaii County Civil Defense Agency have a well-established protocol for evacuating citizens and suspending tourist activity.
Mount Kilauea is the youngest, but most active, volcano on Hawaii's Big Island. It has erupted 34 times since 1952. In May 2018, it erupted after hundreds of earthquakes occurred underneath the volcano, pushing magma up towards open vents. 
According to the U.S. Geological Survey, prior to the eruption, crews identified "small ground cracks less than a few inches wide had developed Wednesday on roads near the volcano, reflecting the buildup of stress at the surface due to magma intrusion."
During the four month eruption, Kilauea spewed over one billion cubic yards of lava from fissures on the East rift zone, an area that has been active for over three decades. The massive expanse of lava formed 875 acres of new land on the South-East of the island, but it also demolished entire residential communities and essential infrastructure.
Originally, officials suspected that it would take months to clear lava from roads. However, many roads still remained closed over a year after the eruption.
When used in combination with USGS and HVO monitoring, AgileMapper data can indicate where the subsurface pressure is building up on the road. It can help identify other infrastructure assets that would be devastated by the lava flow, including electrical, water, and sewage lines. 
With this insight, officials have a clearer understanding of the assets that require rebuilding and how that affects surrounding communities access to essential resources.
While landslides and volcanoes are just two of the natural disasters that AgileMapper may be able to help communities predict and recover from, a visual catalog of your public infrastructure assets can be helpful in many situations. 
Use AgileMapper to monitor the effects of extreme weather, determine if your sidewalks and trails are ADA compliant, or address citizen's complaints – all from the RoadWay platform. You can make decisions safely without sending crews into the field.
Ready to try AgileMapper for your community? Register here for a free account and get started collecting data on your infrastructure assets.