Are you wondering if RoadBotics road assessment ratings are comparable to other rating systems?
The Florida Department of Transportation (FDOT) in partnership with infrastructure design firm HTNB did your homework for you. In their recent report Pavement Management Pilot, featured in the White Papers section of our website, you'll find out how RoadBotics stacks up against other assessment methodologies.
FDOT and HNTB underwent a comparative analysis to determine if technological approaches to pavement assessments were equivalent to the results of their yearly manual inspections. RoadBotics was selected over two alternative technologies, NLP Logix and ROMDAS, as the preferred technological approach because the process is cost effective and has a proven track record of success. 
RoadBotics utilizes vision-based Machine Learning to analyze video footage of roads, identify pavement distresses, and assign conditional ratings on a 1-5 scale. The resulting data points in ten foot intervals are plotted on a GIS-enabled map called RoadWay, where users can view and analyze their pavement assessment results.
In this study, the level of correlation between assessment methodologies was measured by ratings that deemed a road 'deficient' or 'non-deficient', as opposed to an analysis that compared the three differing numerical pavement rating scales of FDOT, Clay County, and RoadBotics.

By performing a sensitivity analysis, the pavement assessment results from RoadBotics were compared to manual inspections performed by FDOT and Clay County. When compared to FDOT, they found 82% of the ratings were in agreement that a road was either 'deficient' or 'non-deficient'. Whereas, 67% of ratings were in agreement to Clay County's. However, discrepancies were found on only one stretch of road.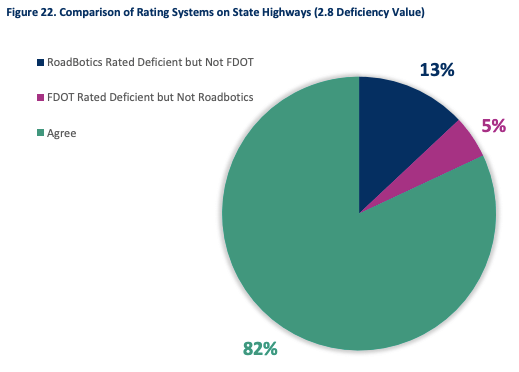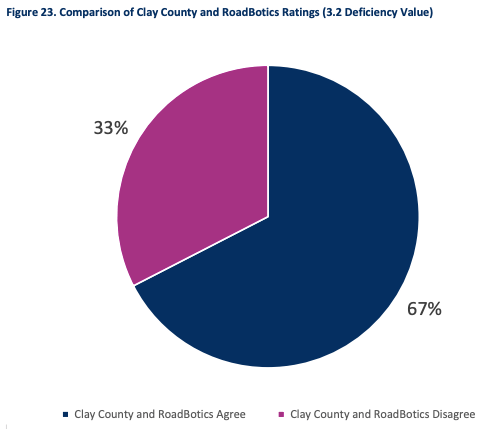 As for their summary and results, great news! The report found RoadBotics technology as a favorable solution to manual pavement assessments. "The RoadBotics system delivers a high benefit-cost ratio considering the accuracy of the agreement with manually collected data and assessments. The RoadBotics rating system, combined with the collection of photography of the pavement every 10 feet, allows for a better understanding of the conditions and the photo logging allows users to verify the ratings and make corrections if needed. The video log is useful in providing objective information to elected officials, appointed officials or the public to support the recommendations."