The RoadBotics Product Team is excited to release new features and updates to RoadWay and the Individual Distress Identification (IDI) assessment including HD-PCI, advanced distress reporting, and improved data accessibility.
Users with an Individual Distress Identification assessment already receive high-definition 1080p pavement imagery with conditional ratings and pavement distress identification on RoadBotics' GIS-enabled platform, RoadWay. Now, with the addition of HD-PCI ratings, an IDI assessment provides users with unparalleled granularity and robust data to make well-informed pavement management decisions. 
HD-PCI is a proprietary pavement condition rating system that is calculated by aggregating the RoadBotics point-level ratings along with the density and severity of pavement distresses present in a road segment. Like ASTM's Pavement Condition Index (PCI), HD-PCI provides pavement conditions on a 0-100 scale, from failed to satisfactory.
Where HD-PCI is superior to traditional rating methods is in its ability to  provide pavement conditions from intersection to intersection instead of using a few hundred feet to represent many miles of road. HD-PCI is rooted in RoadBotics' hallmark Artificial Intelligence (AI)-based objective condition ratings, therefore users can remain confident in the accuracy of the ratings.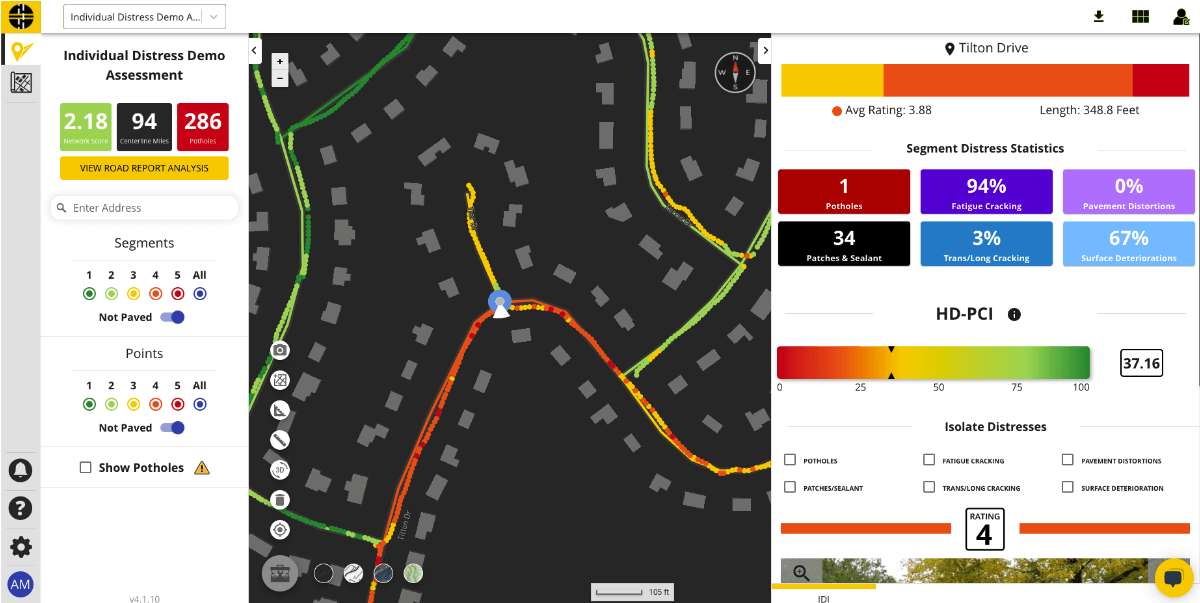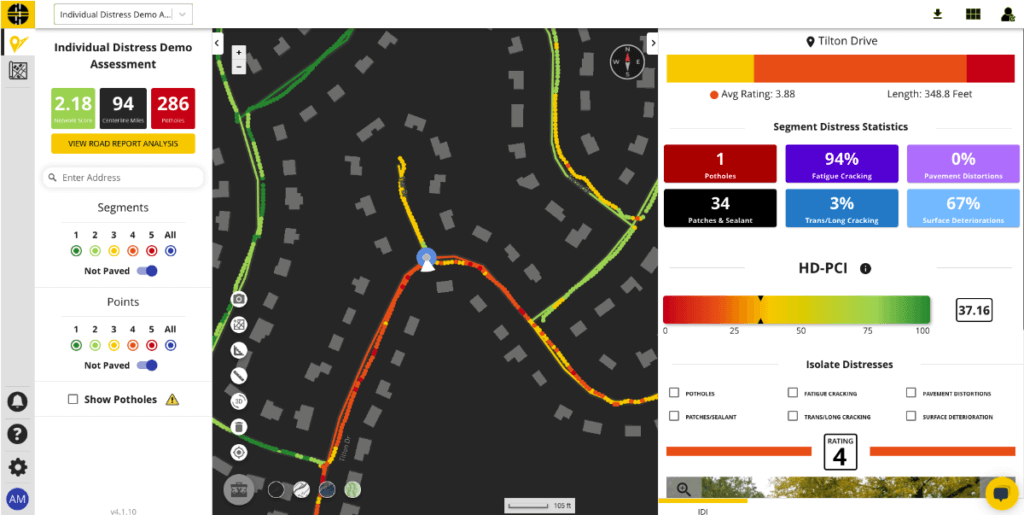 To view HD-PCI scores, select a segment on the RoadWay map. Along with the traditional segment information, distress statistics, and imagery, the HD-PCI rating will appear accompanied by a color-coded bar.
Advanced Distress Reporting
In addition to HD-PCI, IDI assessments now come with advanced reporting capabilities through the Individual Distress Analysis. Per segment, the report summarizes the GPS location, length, RoadBotics rating, HD-PCI score, and number and percentage of distresses present. Each column in the table is able to be sorted from highest to lowest or vice versa.
The advanced filtering functionality allows users to filter for segments based on Condition Rating or the presence of pavement distresses. Click on a rating or distress to toggle it 'on' or 'off,' as indicated by the selected filters showing a black circle and bold font. 
Additionally, distresses can be filtered by number or percent of prevalence. When a distress is selected, simply move the slider or type the number to adjust for the desired amount.
As shown above, the Individual Distress Analysis can be used to plan preventative maintenance activities. In this scenario, by isolating the 2 and 3 rated roads with 40% or more fatigue, transverse, and longitudinal cracking, users can identify the segments that are good candidates for a crack seal program.
Improved Data Accessibility
Now, RoadBotics data is easier to access than ever before. Assessment data can be exported directly from RoadWay to support pavement management needs. Data can be exported in three ways: from the main navigation bar, while using Dynamic Segmentation, and the Individual Distress Analysis.
Point or segment level assessment data can be downloaded from the main navigation bar by selecting the Download Files arrow. Both options are downloaded as CSV files.
While using the Dynamic Segmentation tool, users can export the table that summarizes the street name, length, and average rating of each segment by selecting the Export arrow. The data will export in a CSV file.
For users who have an IDI assessment, the Dynamic Segmentation table will also include the number of potholes and patch/seal, as well as the percentage of fatigue cracking, pavement distortions, transverse/longitudinal cracking, and surface deterioration present in the segments. That data is also exportable in a CSV file.
Lastly, the Individual Distress Analysis report can be exported as a CSV file by selecting the Export arrow. Users can export the entire report or filtered segment information.
Author