RoadBotics is excited to release new features for AgileMapper and Individual Distress Identification (IDI) assessments, including advanced AgileMapper labeling and filtering, network HD-PCI rating scores, and Individual Distress Analysis data toggling.
AgileMapper Image Collection Filtering
AgileMapper, RoadBotics' image inventory technology, captures and maps infrastructure asset image data. The product's newest feature called Image Collection Filtering allows you to label, color-code, and filter your collections. Previously, all collections appeared simultaneously on the map in blue. Now, you can easily visualize multiple collections at once.
For example, this map illustrates a series of sidewalk collections. The user has labeled and color-coded different collections to mark their purpose, including sidewalk inspection, new curb ramps, tree obstructions, and lead line replacement:
To customize AgileMapper collections, select the three vertical dots next to the Image Collections header. Then, select the pencil icon to edit each collection. Using the editor, you can easily rename and color-code each collection.
Now, you are able to also toggle between one or multiple collections. Isolate a specific collection as shown below or view multiple or all collections at once. This functionality takes the guesswork out of discerning between multiple collections and their intended purposes.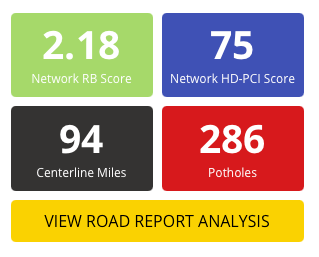 The network HD-PCI score is generated by averaging the HD-PCI segment ratings, weighted by length of segment.
To view this data, simply access the assessment through RoadWay. The network HD-PCI score is found within the purple box next to the network RoadBotics score, as shown to the left.
Individual Distress Analysis Data Toggle
RoadBotics released the Individual Distress Analysis for users with an IDI assessment last month. The Advanced Distress Filtering function allows you to filter based on condition rating or the presence and/or prevalence of pavement distresses. 
In addition to viewing your distress information by segment, the new Data Toggle feature allows you to also view this data by street name.
You can view pavement distress information for an entire street, as opposed to intersection by intersection in the segment view. Whether viewing the entire report or filtering by segment or street name, the data can be exported to a CSV file for reporting or data analysis purposes.