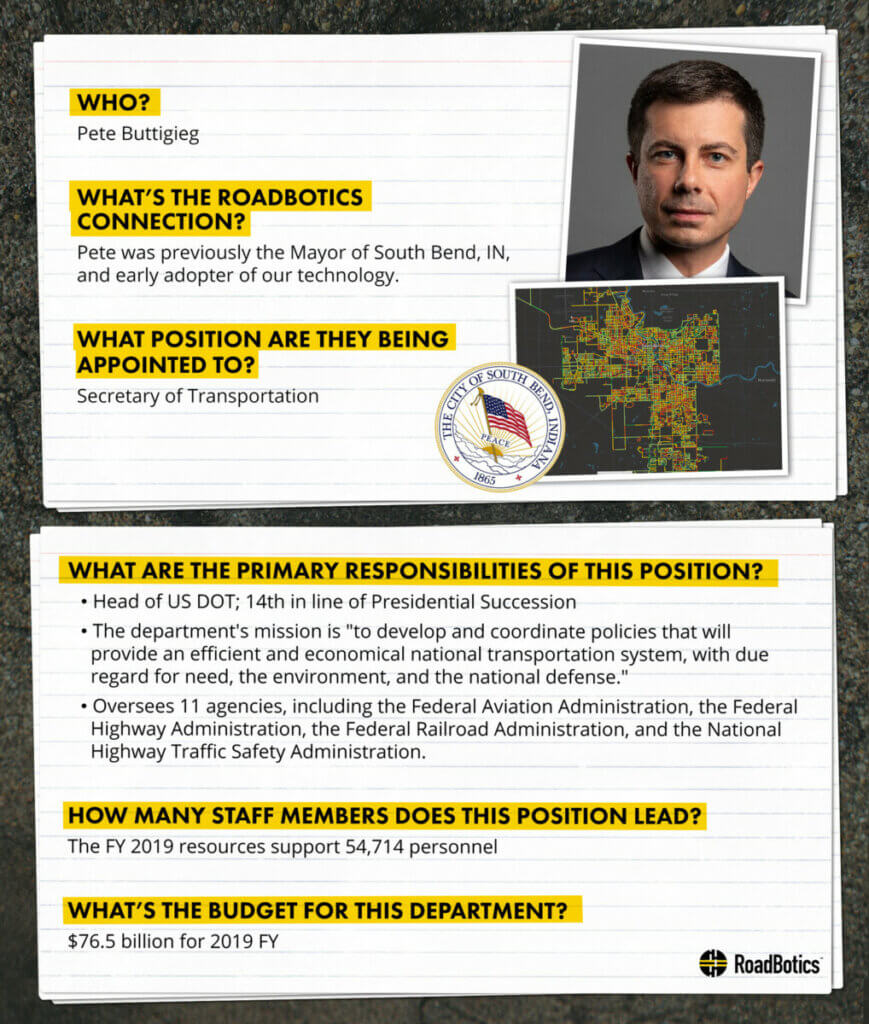 By now, you've likely heard former South Bend Mayor and 2020 Democratic presidential candidate, Pete Buttigieg, was nominated to be the Secretary of Transportation in the Biden administration. 
Pete Buttigieg was the Mayor of South Bend, IN, from 2012-2020. During his time in local government, Mayor Pete showed that innovation, adaptation, and consistency would steer a community towards progress over perfection. 
Most pointedly, soon-to-be Secretary of Transportation Buttigieg saw the value in making decisions based on data and made it a priority to adopt new technology.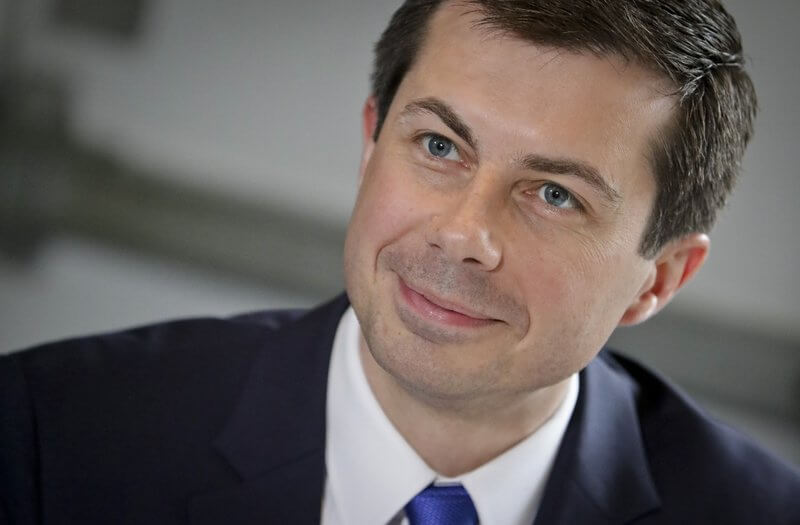 Imaged sourced from AP News. Image Credit: AP Photo/ Bebetos Matthews, Pool
Mayor Pete repeatedly referred to South Bend as a "Beta city," meaning it was willing to test out new projects and programs to better the community (4). 
So what accomplishments from his time as an innovative mayor will help set him up for success in this new role? Let's take a look.
During his term, he had a positive impact on economic development through new investments and job creation. He focused on repurposing and revitalizing downtown structures like the old Studebaker automobile plant and Chase Tower.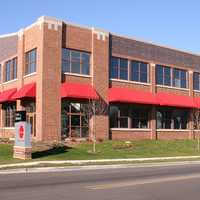 Studebaker National Museum
Mayor Pete's efforts contributed to South Bend's reduction in unemployment, which fell from 9.6 % in January of 2012 to 3.8% in April of 2019 (2), and included working with The Pokagon Band of Potawatomi Indians to build a casino, creating 1,200 jobs (1).
 

Compared to 90 other communities of similar size, South Bend's average income rose slightly (9% to 9.5%) from 2012-2019 (2).
He developed a "Community Resident Card" program to help the city's 4,500 undocumented immigrants access services. This program was a "first-of-its-kind governmentally endorsed, privately run program" (3).
 

The city initiated SB Stat, an "effort to gather and analyze data on city services, suggest changes, and share the information with the public." It studied 911 data to justify hiring decisions and was also a finalist for Bloomberg Philanthropies' 2018 Mayors Challenge. With the $100,000 grant they received, South Bend paired "ride-sharing services with employers to help low-income and part-time shift workers get to their jobs." 

 
It used

Obama era funding

to install "smart sewer" technology to tackle pollution problems caused by sewers overflowing into a nearby river. By implementing this technology they were able to reduce flooding by 75% (5). 
And, of course – South Bend was an early adopter of RoadBotics objective road assessment platform. Their use of RoadBotics data resulted in better distribution of road maintenance resources, which he talks about in this clip from the US Conference of Mayors in 2018.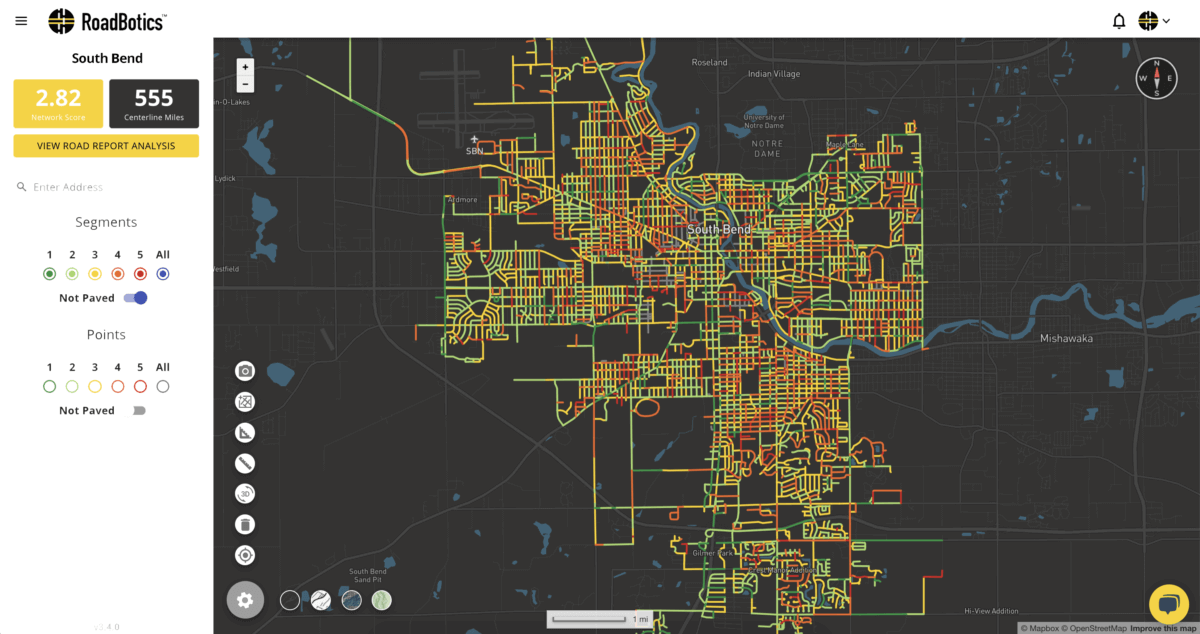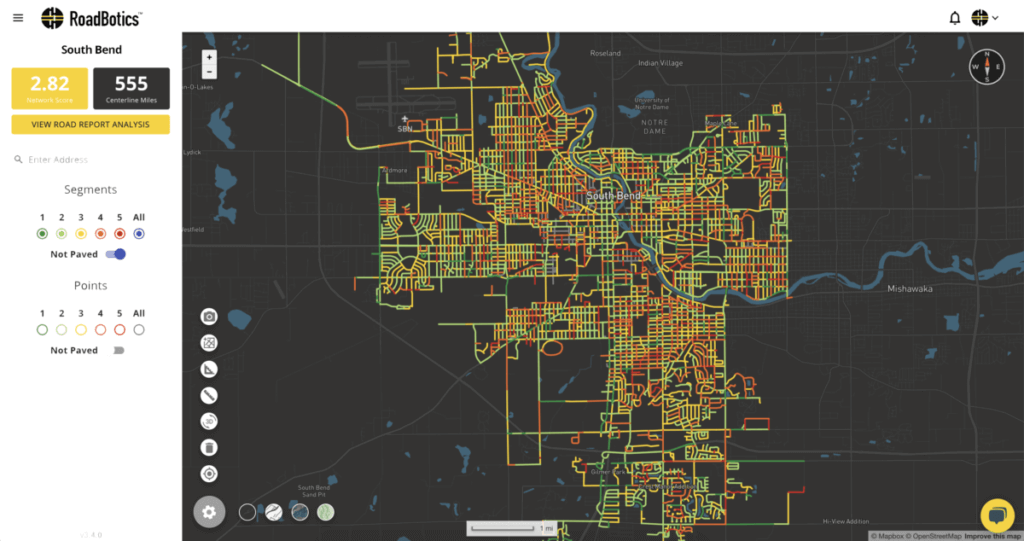 Imaged sourced from the RoadWay Platform of South Bend's pavement ratings.
There's still work to be done in South Bend, but Mayor Pete helped to prioritize progress over perfection to move the city forward. 
Now, Secretary Buttigieg will lend a new perspective to an age-old role. There will undoubtedly be potholes along the way, but it is another chance for him to put his open mind and willingness to innovate to work for the entire country.
RoadBotics wishes Secretary Buttigieg a smooth road forward!