Historically, Americans have funded new, bigger, and better infrastructure projects with little investment in maintaining those assets. The result is over two decades of failing infrastructure condition grades. 
The American Society of Civil Engineers (ASCE) recently released its 2021 Infrastructure Report Card assessing the condition of 17 categories of infrastructure, from ports and dams to roads and bridges. In the Report Card's history of over 20 years, this is the first time America's infrastructure was given a passing grade – a 'C-' up from the previous card's 'D.' 
But with eleven categories receiving 'D' letter grades and another eleven categories whose grades remained stagnant since the previous 2017 Report Card, America's infrastructure has a long way to go. 
The uptick of extreme weather events over the past few decades worsens the country's mediocre infrastructure. Not only does weather compromise the system's ability to provide Americans with necessities like energy, electricity, and water, it also causes assets to deteriorate faster.
COVID-19 exacerbated the inadequacies associated with infrastructure as budgets shrunk and priorities shifted. However, amidst the challenges, a unique opportunity arises to address the issues and advocate for long-lasting solutions.
Throughout the infrastructure conversation, four themes emerge: the need for impactful legislation, addressing the lack of funding, rebuilding resilient communities, and investing in low-cost solutions.
With the opportunity of a new administration, it is time for bold and decisive action. Now that President Biden signed the COVID recovery bill into law, one of his next policy initiatives will be infrastructure. Biden campaigned on a massive $2 trillion infrastructure package that focused on job creation, green energy, and rebuilding crumbling assets – and some speculate the bill will closely reflect his campaign plan. 
Both Democrats and Republicans agree on spending for roads, bridges, broadband, water, and energy improvements – but Democrats intend for the bill to be broader in scope to include renewable energy, climate change, education, childcare, and healthcare initiatives. 
Infrastructure is one of the only issues that typically garner bipartisan support, and both parties voiced the desire for the bill to be just that.
In early March, President Biden and Transportation Secretary Pete Buttigieg met with a bipartisan group to begin a dialogue on the bill's contents. A White House readout of the meeting noted the group "discussed their shared commitment to working across the aisle to build modern and sustainable infrastructure in rural, suburban, and urban areas across the country that create good-paying, union jobs and support the economic recovery." 
Most economists agree that investment in infrastructure will foster economic recovery. Early estimates suggest Biden's infrastructure plan could increase GDP by 2-9% in the short-run and 'considerably more' in the long run. Biden's campaign plan outlines the need to create millions of well-paid jobs, return manufacturing to domestic soil, and invest in clean energy initiatives to bolster the economy.
Creating a bill that will address infrastructure priorities and funding that both sides of the aisle can agree on will be difficult.
Perhaps one of the most concerning takeaways from the ASCE Report Card and executive summary is the projected infrastructure funding gaps and the economic impact of inaction. The infrastructure funding gap is almost $2.59 trillion over the next ten years, with the largest funding gap of $1.2 trillion for surface transportation. The report also estimates that continued underinvestment will cost $10 trillion in GDP and result in the loss of over 3 million jobs by 2039.
Infrastructure requires significant investment to correct the projected deficit and improve its overall condition. America's 'C-' letter grade reflects systematic underinvestment in monitoring and repairing existing infrastructure; therefore, funding should shift away from flashy, new projects to a focus on maintaining existing assets.
Because the average American travels primarily on locally owned and maintained roads, federal investment in infrastructure needs to trickle down beyond the state level to local governments. Local governments can't borrow money to fund projects. Yet, they are the ones called upon to do expensive repairs on the most traveled roads – like filling potholes and repairing – even while COVID is constraining their budgets. 
One way to accomplish trickle-down is by implementing a bottom-up strategy. Local government leaders need to push their infrastructure agenda to state congressmen and women to convince them the projects cannot occur without federal funding. 
Where will the money come from? The federal government has several options, including borrowing, taxes, and the municipal market. Biden will likely try to increase taxes to partially fund the COVID recovery law and the infrastructure bill, but taxes are a point of contention between political parties.
Historically, taxes have paid for a number of infrastructure initiatives. One possible solution to funding roads and bridges is to increase the federal gas tax, which has remained at 18.4 cents per gallon since 1993. The low gas tax is one reason the Highway Trust Fund, a funding source for highways and mass transit, is projected to operate at a deficit as early as 2022.
As the country has witnessed within the last year, infrastructure struggled to meet the demands of COVID-19 and severe weather – broadband access is lacking, the power grid failed in Texas, a portion of Highway 1 collapsed, and there is an ongoing water crisis in Mississippi.
COVID-19 demonstrated that the nation's broadband network is inadequate. Approximately one in five schoolchildren learning from home do not have access to high-speed internet. Before passing Biden's COVID relief package that provided $7 billion for remote learning, an estimated 15 million children were without internet access, and only 2-5 million gained access over the past year.
As is the case with broadband access, crises tend to affect disadvantaged and minority communities disproportionately. Many progressives view the infrastructure bill as an opportunity to start addressing deep-rooted inequalities; however, they fear bipartisan approval will leave out "investments in America's human infrastructure."
One cross-cutting theme that has surfaced over the last year is the need for communities to build resiliency. In addition to pandemic-related issues, the uptick in severe weather compromises the quality of life for thousands of Americans. Investment in infrastructure should enable community leaders to respond faster and recover more quickly from these events.
One strategy to maximize funding is to invest in simple, low-cost solutions for managing and improving assets. 
The first step in rebuilding infrastructure is to perform asset assessments to understand what should be repaired now and create long-term maintenance plans. RoadBotics uses artificial intelligence (AI) to automate pavement condition assessments.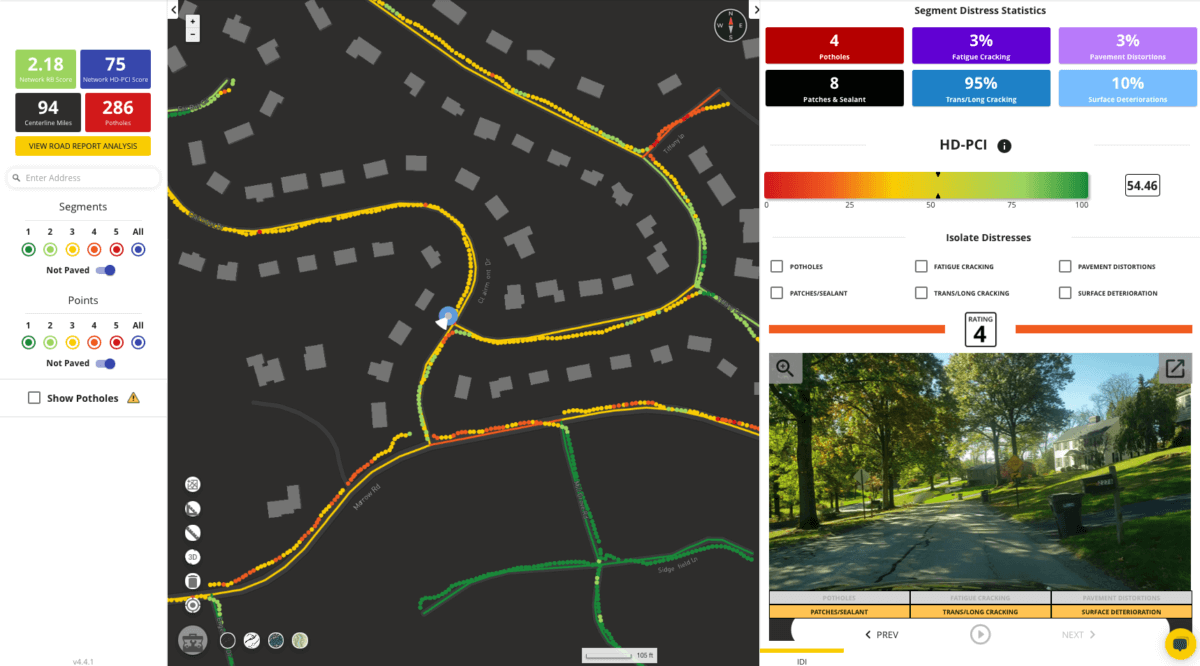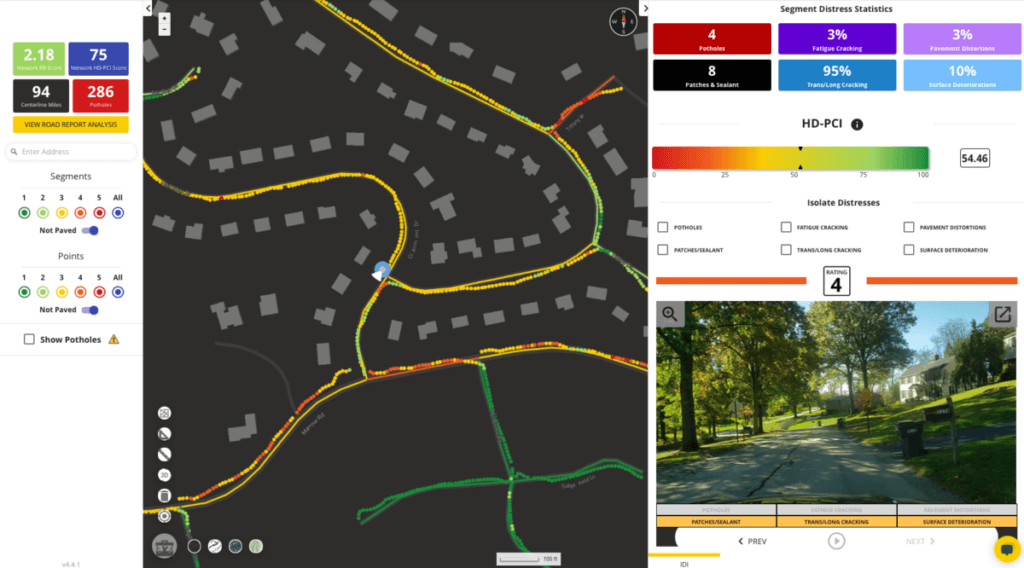 Several other technology companies apply AI, sensing devices, and drones to complete sewer, bridge, and powerline inspections. These efficient and objective approaches transform the way infrastructure is assessed and managed by digitizing assets and providing accurate and actionable data.
Technology is also used to map assets, perform risk assessments, and engage citizens. ESRI provides cloud-based mapping software that businesses and governments can utilize to digitize infrastructure and layer networks. Smartvid.io is a technology company that uses AI to perform risk assessments at construction sites. Digital technologies such as social media, smartphone applications, and website platforms have enabled citizens to identify issues and voice opinions with their local government.
Finally, urban communities are maximizing technological solutions and becoming Smart Cities. These local governments use technology to collect data to improve interconnected systems, including infrastructure, public safety, energy usage, and mobility. The best examples of Smart Cities – like Pittsburgh, Austin, and Seattle – improve systems and increase efficiency with the greater good in mind.
As many infrastructure leaders recently voiced, data is the key to infrastructure improvement and management. The infrastructure bill should provide funding to encourage data-driven decision-making and to leverage technological solutions.
ASCE has recently confirmed that America's infrastructure is still in desperate need of maintenance and repairs. While details of the infrastructure bill are still unknown, the aforementioned themes from the past year should be top of mind when writing policies to help the country recover and rebuild infrastructure and the economy.