On AgileMapper, you can build meaningful maps of your infrastructure assets, including fire hydrants, manhole covers, road signs, and many other above ground objects. 
Your map may contain hundreds or even thousands of images, but how do you sort through the data points to find what is relevant for your query?
AgileMapper's advanced search functionality allows you to do just that! Whether you are looking for images with a specific tag or a particular capture date, you can isolate what you need and assess subsections of data.
Please note, where you are in AgileMapper will determine the search results you receive. 
For example, when on the Maps overview page with all of your maps listed, performing a search will pull up the maps that fit your search criterion.
Similarly, when looking at a map specifically, performing a search will populate the image data relevant to the search criterion. 
Let's look at the different ways to search within the platform.
At the top left, directly below the AgileMapper logo, you will find the freeform search bar indicated by the 'search for keywords' message and a magnifying glass icon. In this search bar, you can search for members, tags, dates, and map names by typing in what you are looking for.
The freeform search function is most useful for general platform searches.
There are three types of specific search bars – tags, members, and date – situated to the right of the freeform search bar. 
Use the 'tags' search bar to find artificial intelligence (AI)-generated or custom tags within your images. For example, while looking at a specific map, typing the word 'stop' will generate all images with stop signs. Additionally, selecting the drop-down arrow in the search bar will generate a list of all of the tags in your AgileMapper database.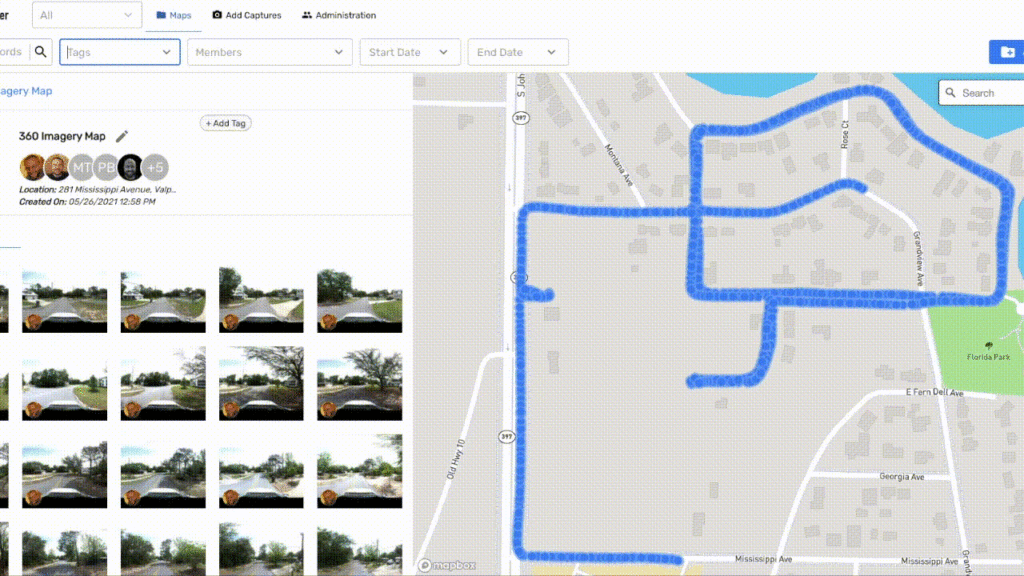 Use the member search to find all maps or images a colleague is associated with. When you are within a map, searching for a member will populate all of the images that person has uploaded to the platform. To do this, enter a colleague's name in the 'member' search bar or select the drop-down arrow to see a list of members to select from. 
The date search is intended for finding images that were captured within a given time frame. This is especially useful when trying to find historical data to compare over time. Simply enter the date range in the 'start date' and 'end date' bars. To find images captured on a specific date, enter that into the 'start date' bar. 
Lastly, there is an address search on the map itself. It is located in the top right portion of the map. This search tool does not isolate images, but it allows you to look at the images around a specific location.
With the freeform and specific search functions on AgileMapper, managing and finding information in expansive image data sets is simplified. 
Try it out for yourself! Sign up for your free Agilemapper account.