RoadBotics by Michelin's Artificial Intelligence (AI)-based pavement assessment is utilized by 250+ communities around the world. 
Our creative clients have come up with some unique ways they're applying RoadBotics by Michelin's technology. In this Unique Use Case, we will discuss how two of our Enterprise Partners integrate RoadBotics by Michelin's data into their proprietary pavement management platforms.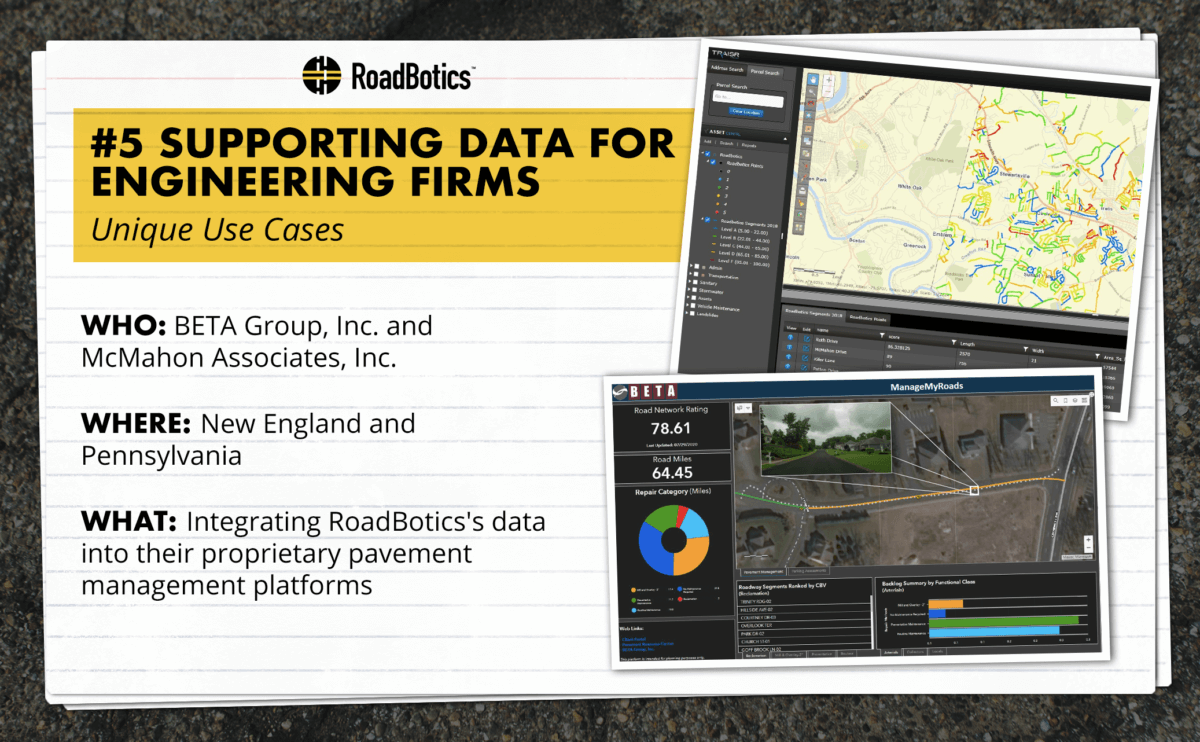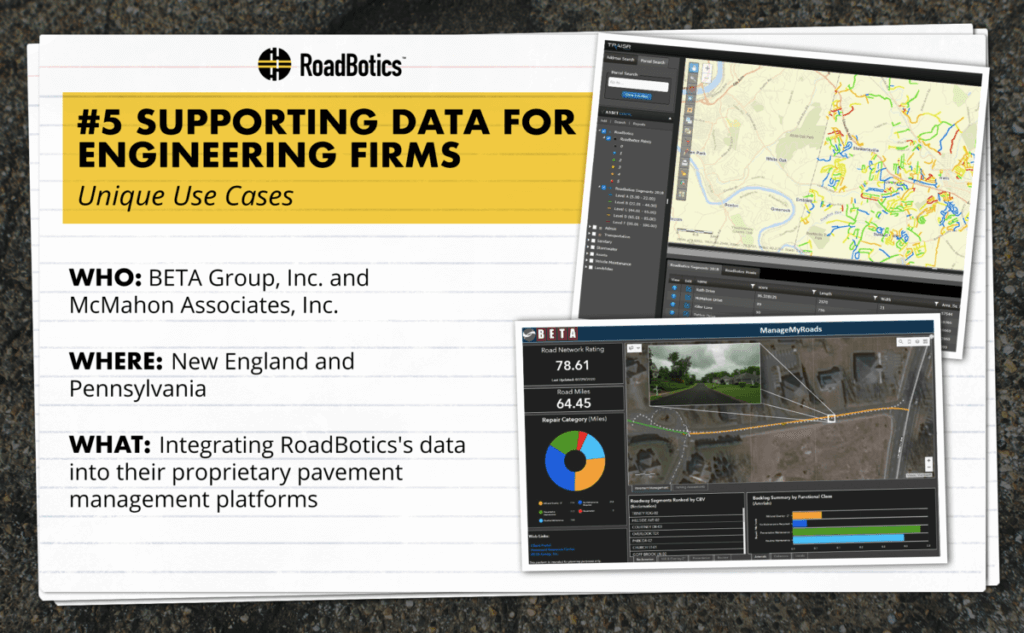 RoadBotics by Michelin pavement condition ratings are a crucial starting point for developing pavement management plans. Our engineering firm partners, BETA Group, Inc., and McMahon Associates, Inc., take our data one step further by integrating it into their proprietary platforms, giving the client a holistic and hyper-granular picture of their road network conditions and recommendations for repair. 
BETA Group, Inc. is an engineering, planning, and landscape architecture firm headquartered in Lincoln, Rhode Island. RoadBotics by Michelin and BETA partnered in 2018 and have since completed nearly 50 projects together in the New England area. 
McMahon Associates is a transportation engineering and planning firm headquartered in Fort Washington, Pennsylvania. RoadBotics by Michelin and McMahon have been working together to serve communities in Pennsylvania since 2019. TRAISR is a cloud-based, scalable solution for managing assets, infrastructure, community development, and code enforcement for municipalities originally developed by McMahon. Over several decades, the TRAISR platform morphed into a sophisticated solution that is a stand-alone brand.
Let's take a look at how BETA and McMahon integrate RoadBotics by Michelin data into their unique pavement management platforms.
BETA Group's proprietary pavement management platform is called ManageMyRoads. It is a comprehensive suite of road network information, including a database, GIS files, and map dashboard hosted by ArcGIS Online. Depending on the client's needs, the platform contains essential information for pavement management or capital improvement plans.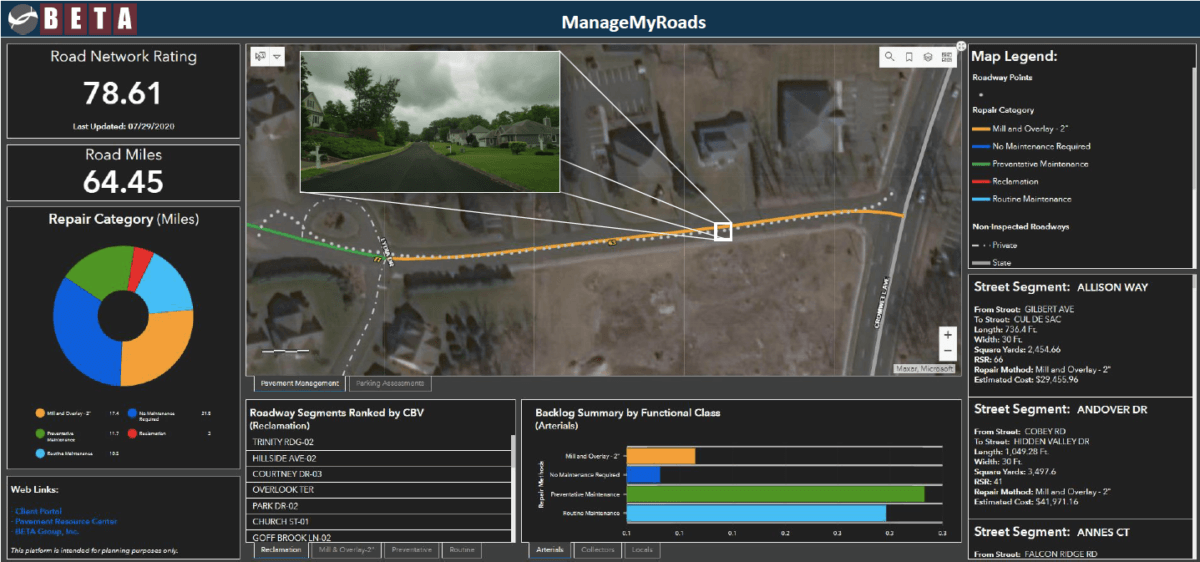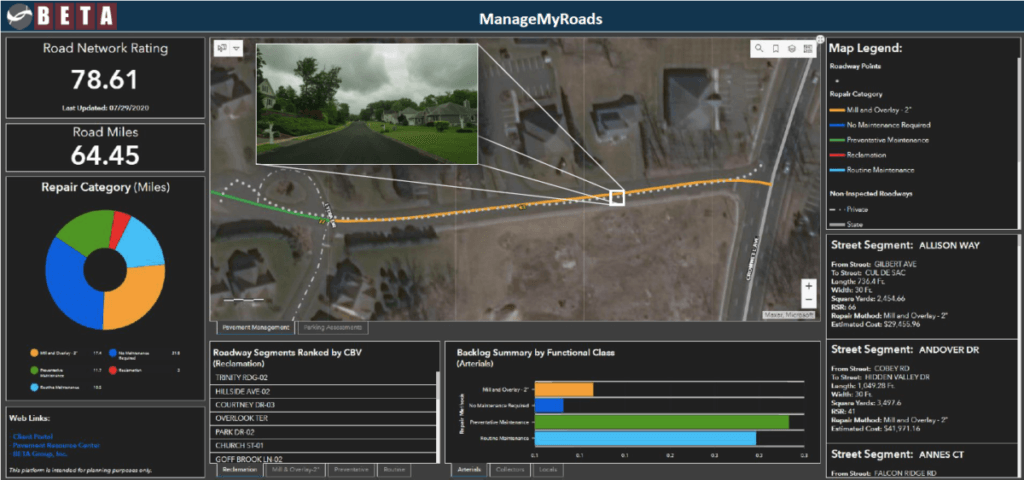 BETA adopted RoadBotics by Michelin's pavement assessment technology because of the efficiency of data collection and quality of point-level pavement data every ten feet. BETA's engineers found the smartphone-based collection process to be significantly faster than their previous method. Also, they found the point-level data – which is generated by RoadBotics by Michelin's artificial intelligence (AI)-based analysis – to be a valuable addition to the road and asset information they provide.
The integration of RoadBotics by Michelin's pavement assessment data into ManageMyRoads is a straightforward process. Once RoadBotics by Michelin delivers the results, engineers perform a quality assurance check on the point-level ratings. RoadBotics by Michelin 1-5 ratings are converted to BETA's proprietary, industry-standard 0-100 rating scale. The converted data, along with RoadBotics by Michelin point-level road images and other available asset data sets, are uploaded into ManageMyRoads.
Previously, BETA delivered pavement management plans through tabular data sets and PDF maps. Now with the integration of RoadBotics by Michelin data into the robust ManageMyRoads platform, their clients have a user-friendly and intuitive tool to visualize the results from the pavement assessment. This insight helps them plan where to make repairs and conduct maintenance, as well as what types of repairs are recommended for now and into the future.
TRAISR is a modular asset management platform rooted in ArcGIS mapping software used by McMahon Associated. It contains eight modules: Asset Centrl, Work Centrl, Permit Centrl, Citizen Centrl, GPS Centrl, Inspection Centrl, Land Centrl, and Fleet Centrl. Because the platform is completely customizable, clients dictate what data is included and how it is presented. The aggregation of numerous data sets across modules achieves a high level of transparency that clients can share to validate decision-making with officials and citizens.
RoadBotics by Michelin pavement condition data is integrated into TRAISR as part of the Asset Centrl module. Here clients can view pavement information along with adjacent assets, including those related to transportation, sanitary systems, and stormwater drainage.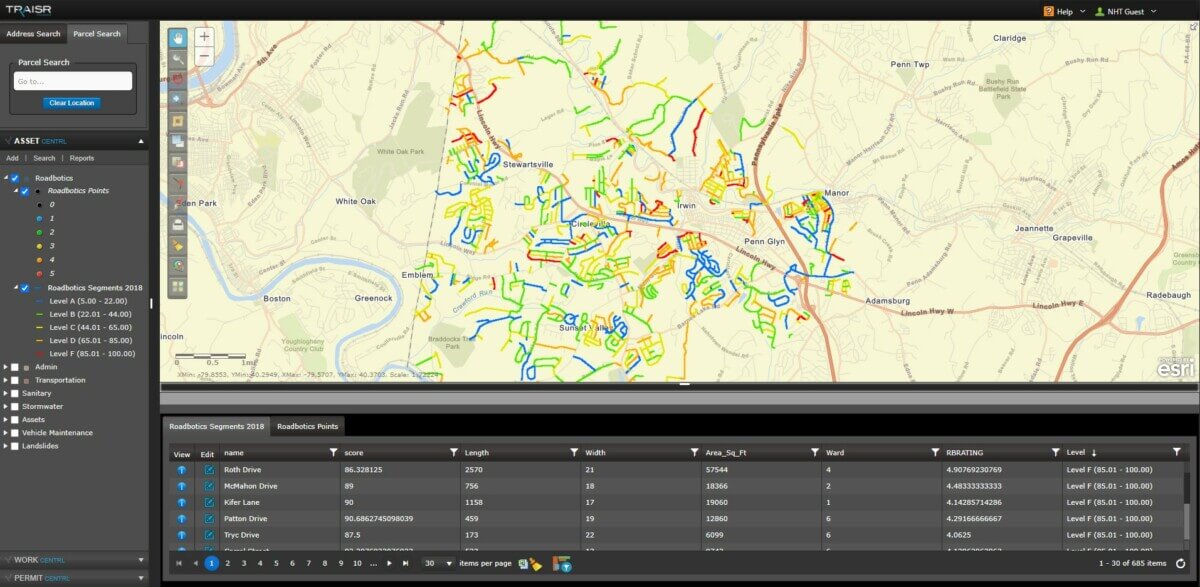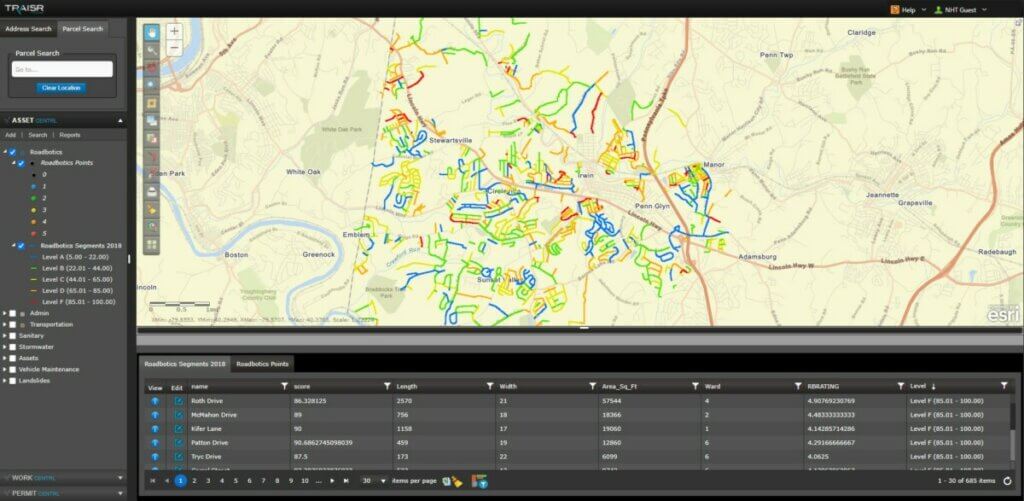 Depending on the client's needs, RoadBotics by Michelin data can appear as color-coded and rated road segments, or the 1-5 ratings can be converted to other rating indices. RoadBotics by Michelin point level rating data and imagery can also be imported for a granular view of pavement conditions. 
McMahon's engineers determine road repair recommendations by combining information about the length and width of road segments with RoadBotics by Michelin ratings.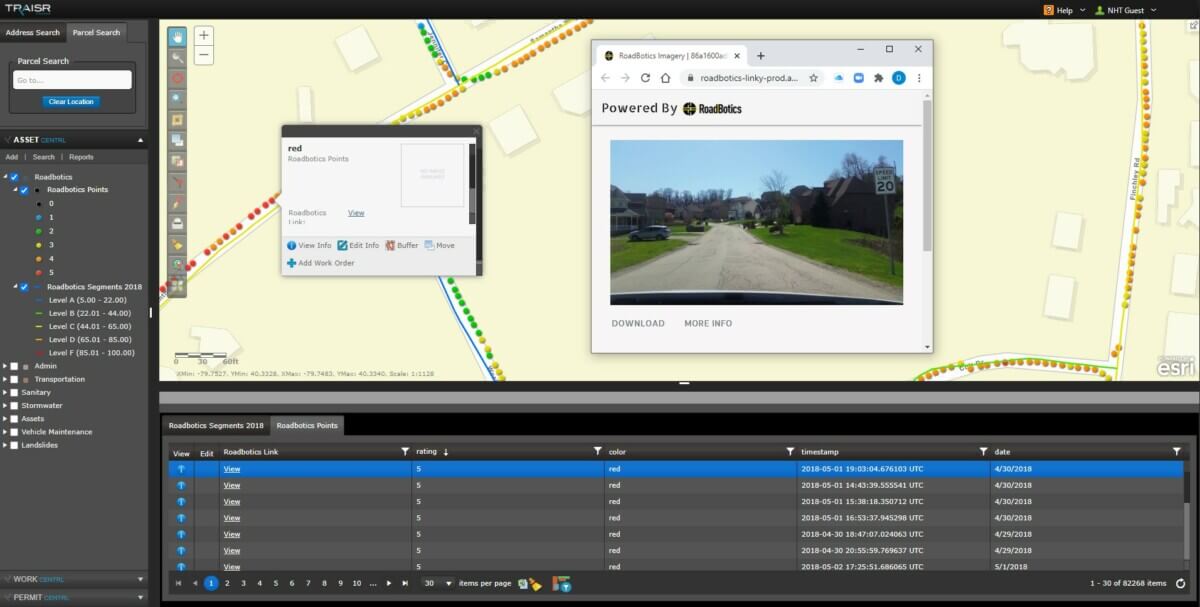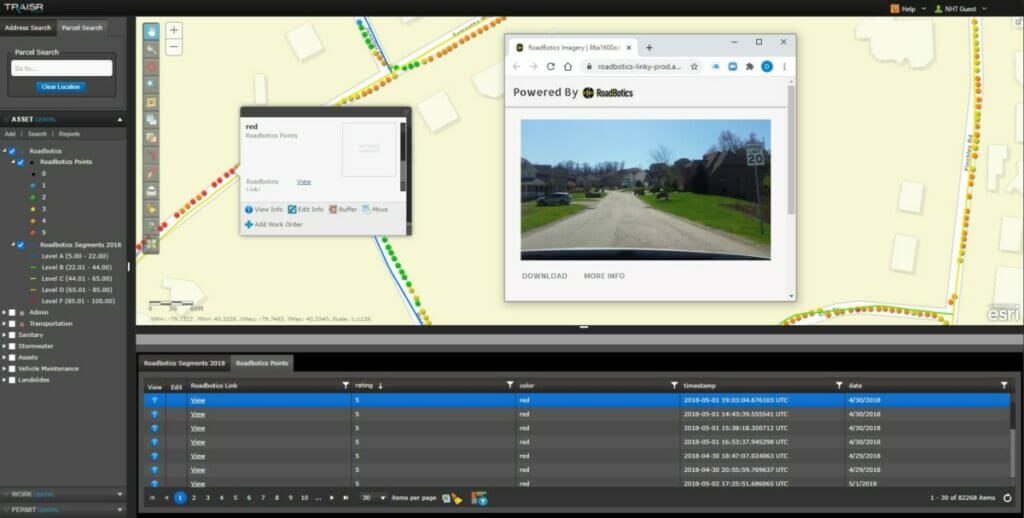 Developing a pavement management plan requires multiple assessments to validate that the recommended repair strategies are working effectively. The ease of the RoadBotics by Michelin assessment process combined with the data available in TRAISR gives engineers and clients the information needed to make well-informed pavement management decisions.
RoadBotics by Michelin assessment data can be seamlessly integrated into almost any asset management platform. Pavement conditions, along with additional asset data, give engineers and municipalities the information necessary to develop effective pavement management plans. 
Want to learn more about RoadBotics by Michelin data and integrations? Fill out the form below and a RoadBotics Expert will be in touch with more information.