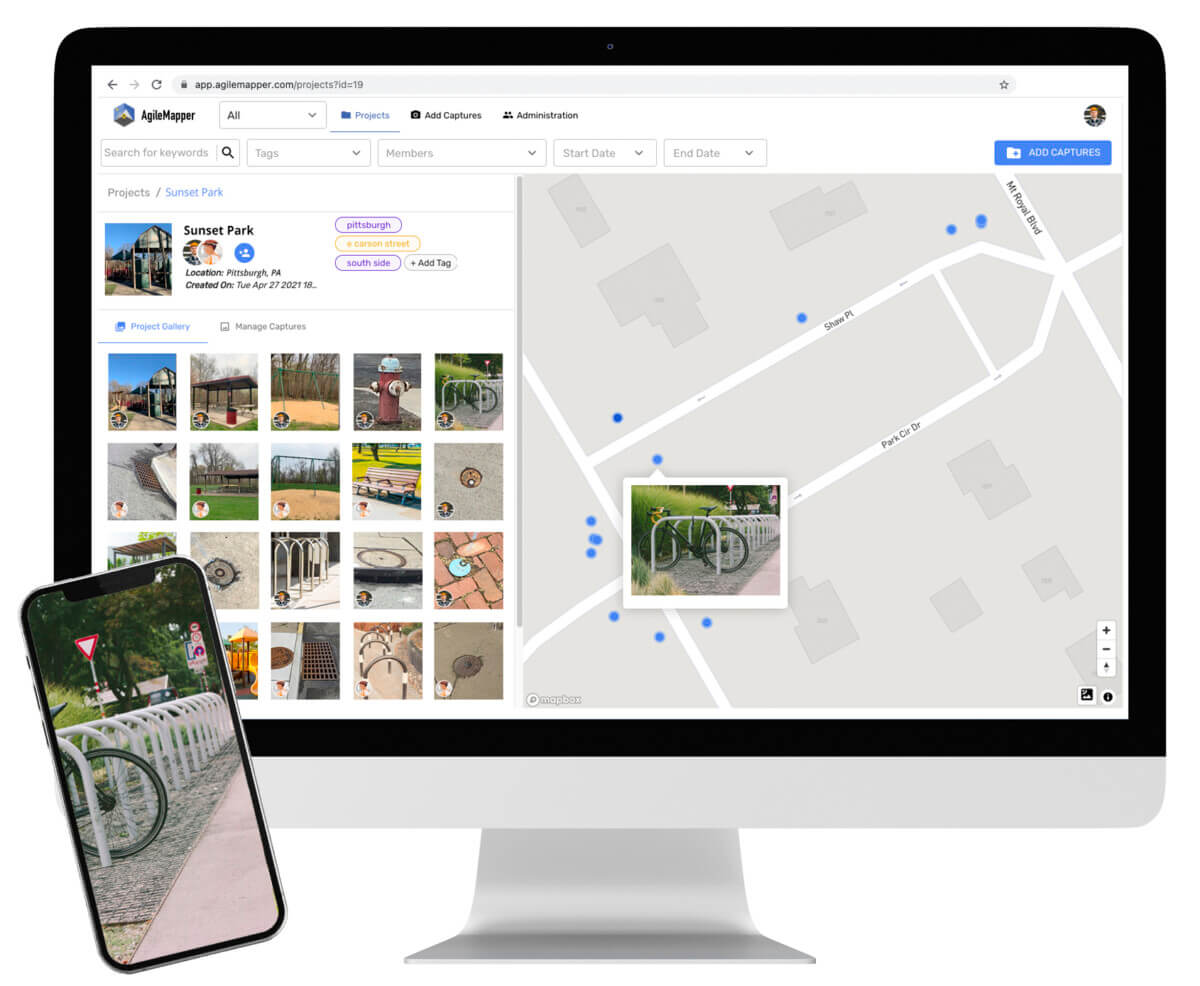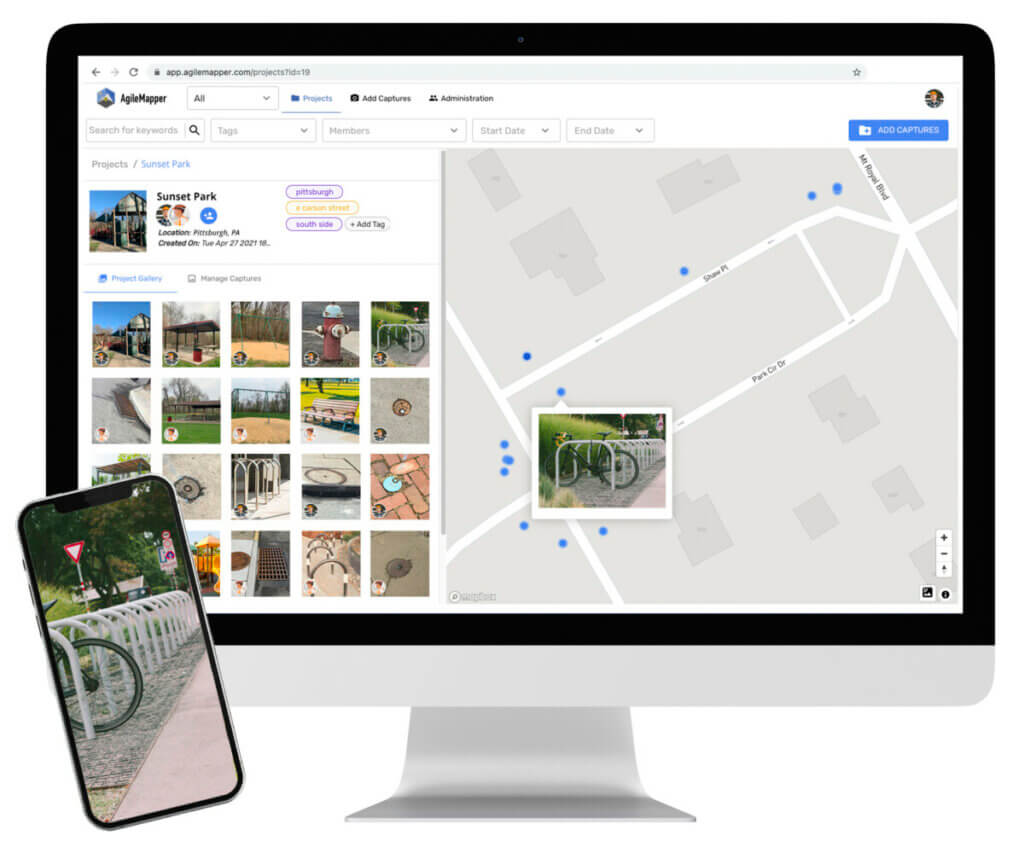 Interested in setting up an AgileMapper account? Get in touch with our team today!
Complete the form below to talk with a RoadBotics Product Expert. 
RoadBotics transforms your visual infrastructure data into meaningful maps using artificial intelligence. These interactive maps empower you to make data-driven decisions about your environment and provide digital solutions for industries like civil engineering, utilities, insurance, construction, and the public sector.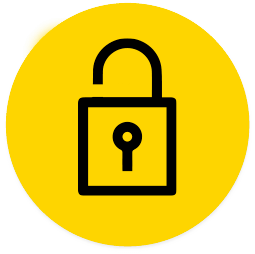 Upload your image data – including GoPro, 360 camera, and drone footage – and let our AI go to work!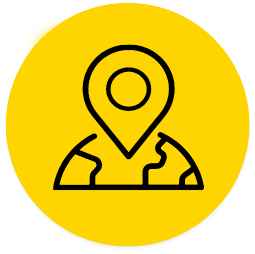 Each image is automatically geo-tagged, time-stamped, and user-referenced on a map with common tags applied by our AI.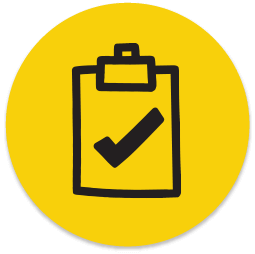 Sort, report, and communicate locations and conditions across teams to create actionable and trackable plans.
Already Have Existing Visual Data?
Bring the visual data you already have to life – including GoPro, 360 camera, or drone footage – by easily uploading it to the AgileMapper platform. 
Each image is geo-tagged, time-stamped, and user-referenced on an interactive map. Your images are automatically tagged by our artificial intelligence, or you can create your own tags for more clarity.
Arrange the images on different maps, and suddenly your old visual data tells a different story!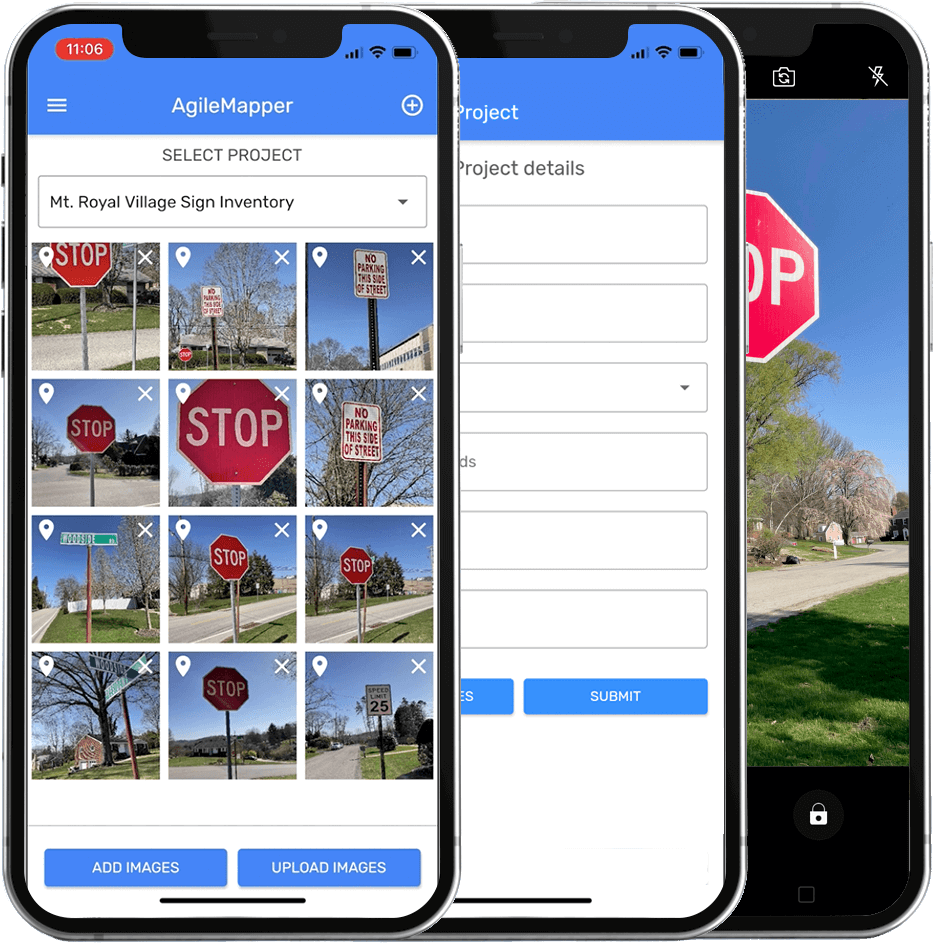 In the Field with AgileMapper Mobile App
Once you've downloaded the AgileMapper mobile app on your smartphone, you can begin collecting new images of your assets whenever and wherever you'd like. Each image is automatically geo-tagged, time-stamped, and user-referenced. 
Your images update in real-time to the AgileMapper desktop website where they are immediately mapped and tagged, improving transparency and accountability between the field and office. 
Have other images on your smartphone already? You can upload those to AgileMapper, too. 
Speed Up the Process with Artificial Intelligence
After an image of an asset is captured and the geo-tag, time-stamp, and user reference is applied, our AI goes to work!
Using a comprehensive set of tags like traffic signs, benches, manholes, and fire hydrants, your images are automatically identified and tagged by our AI. 
If you have already established naming conventions, you can create your own tags to manually label assets. 
All of these tags can be easily grouped and searched, so you can quickly find what you are looking for later.
The images can be searched by keyword, tags, users, location and even date and time for even more flexibility.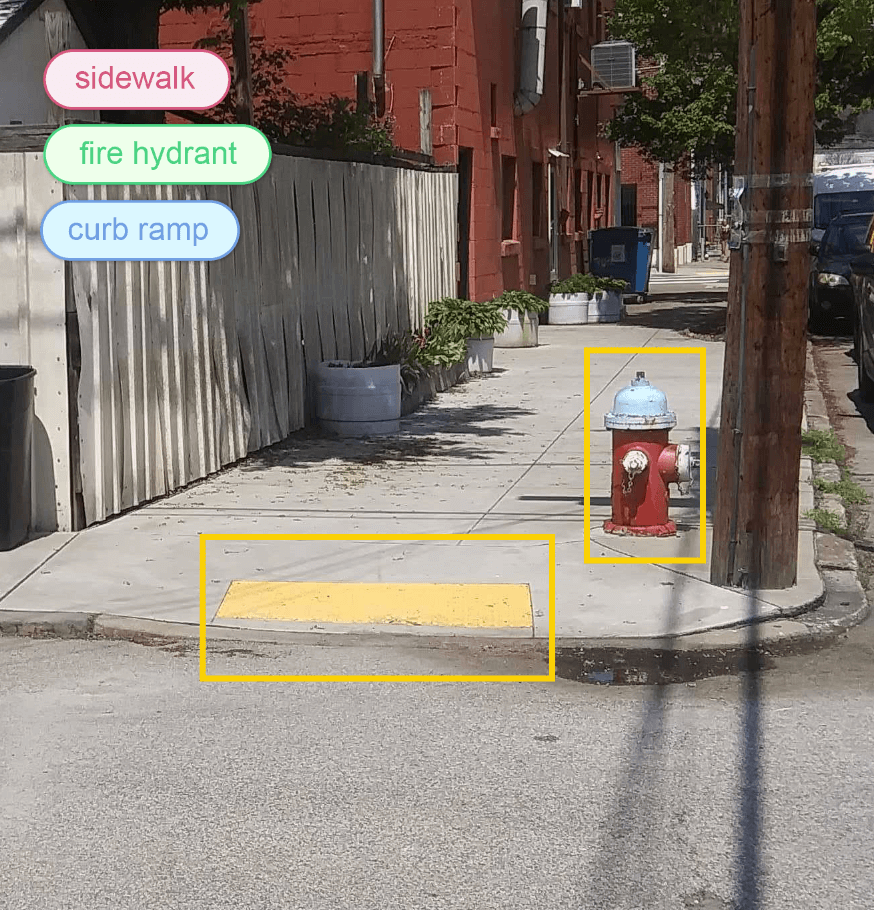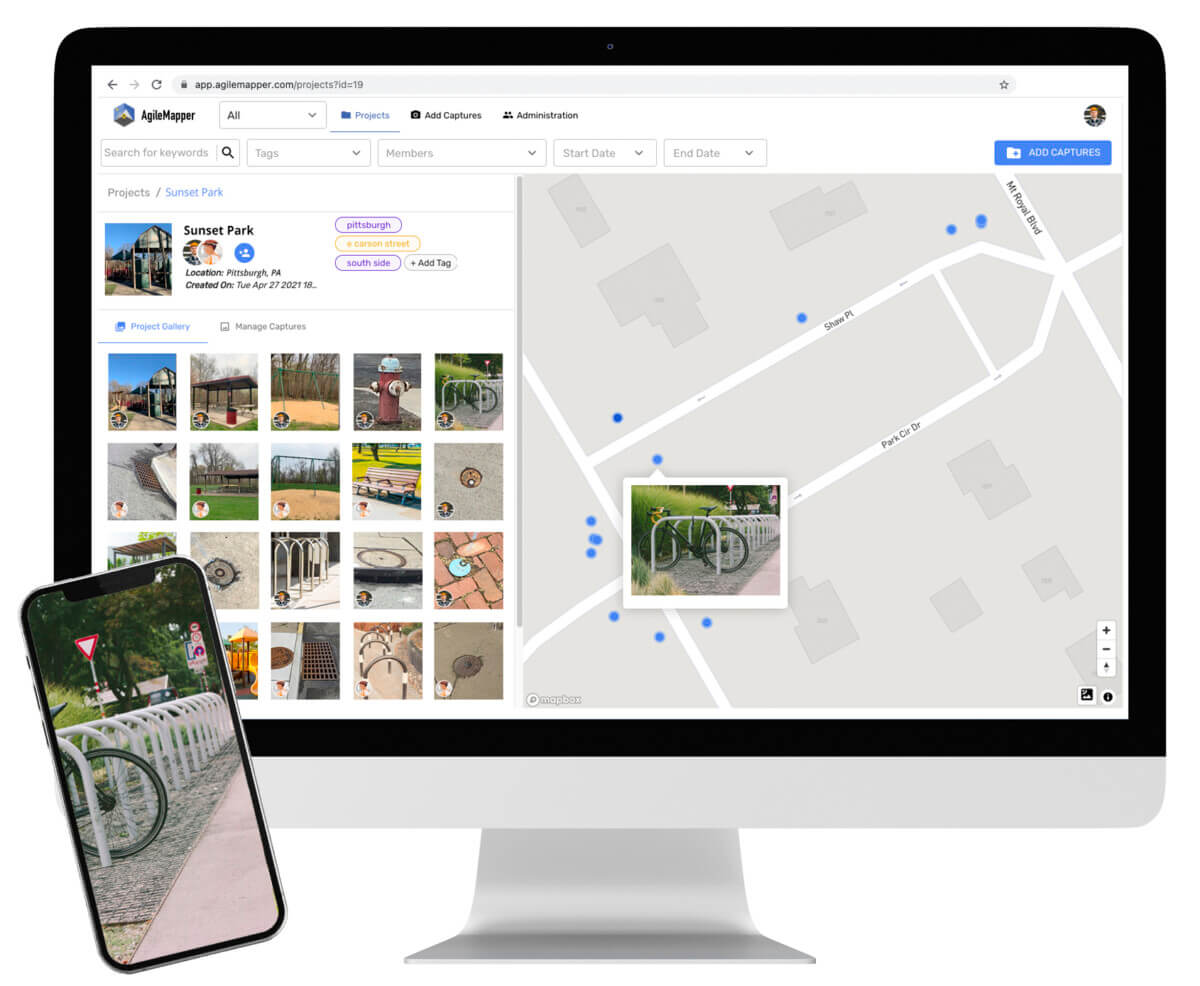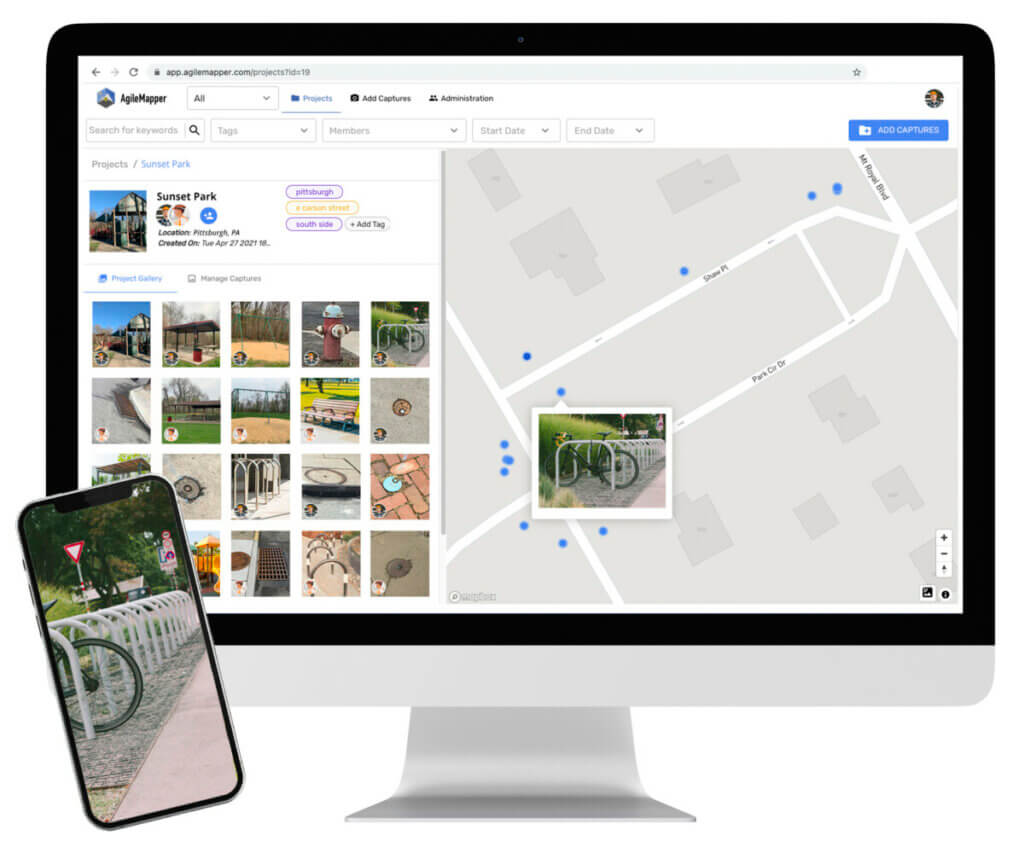 Easily Organize Maps and Progress
Project management is easier with objective information and clear communication. With AgileMapper, your organization has one account for as many users as you'd like to add. You can create maps, add locations, and assign teams right from your desktop. In the field, users can quickly record, react, and arrange images within your Maps.
The straightforward interface allows each user to customize their own settings, add and tag images, and save comments on each image. 
Each time you log in, you'll see all activity since your last session under Notifications.
All of your data is stored in the Cloud, saving space on your personal smartphone and keeping your data secure. 
Watch AgileMapper in Action!
Check out our quick AgileMapper demo and then sign up to get your FREE account.