In his first book, Mission Control: The Roadmap To Long-Term, Data-Driven Public Infrastructure, RoadBotics CEO and Co-Founder, Ben Schmidt, PhD, combines his dedication to data-driven decisions with his experience working with governments and civil engineering firms to provide a two-part framework for infrastructure asset management. 
Many governments and civil engineering firms have adopted RoadBotics technology since our inception in 2017. While there is no "one-size-fits-all" solution to each community's infrastructure management needs, there is a very useful mindset that can be applied to prioritize progress over perfection.
As Ben shares in the first line of the book,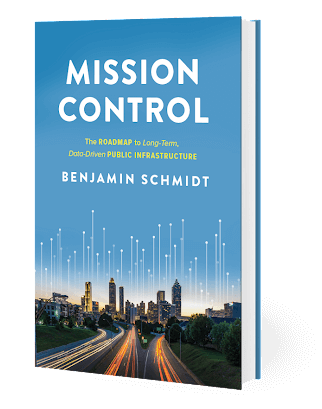 Coming Soon!
Available on June 1, 2022
Fortunately, all failures come with a lesson to be learned- and Ben shares how adopting new processes and technologies can save money, achieve better outcomes, and make a tangible difference in your civil infrastructure management.
Those who play a part in keeping our roads, bridges, and other infrastructure assets in working condition will find valuable insight and guidance in Mission Control– including how to overcome the common obstacles and wrong turns that stop innovators in their tracks, demonstrating how obtaining the right data works as a foundation for informed decision-making
The book will be available on June 1, 2022. Watch our social media and monthly newsletter for announcements leading up to the release date, and download the Press Kit.