We're pleased to announce Mission Control: The Roadmap To Long-Term, Data-Driven Public Infrastructure officially launches today! 
RoadBotics CEO and Co-Founder Ben Schmidt, PhD, combines his dedication to data-driven decisions with his experience working with governments and civil engineering firms to provide a two-part framework for infrastructure asset management, showing that progress is possible.
Those who play a part in keeping our roads, bridges, and other infrastructure assets in working condition will find valuable insight and guidance in Mission Control– including how to overcome the common obstacles and wrong turns that stop innovators in their tracks, demonstrating how obtaining the right data works as a foundation for informed decision-making.
Mission Control is now available for purchase online at Target, Amazon, and Walmart. To ensure this valuable information can be accessed by all who are interested, the Amazon eBook will be discounted to a rate of $0.99 until June 8, 2022!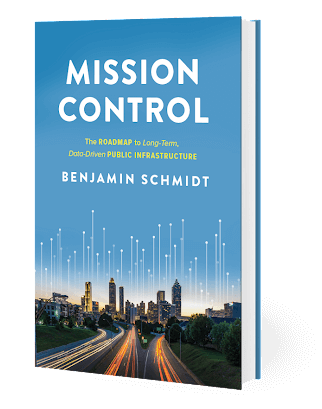 Stay connected by following us on social media and subscribing to our monthly newsletter for ongoing updates around data-driven infrastructure maintenance.
Do you have more questions or would like to interview Ben? Contact us.