RoadBotics by Michelin's automated pavement assessments are utilized by over 300 communities around the world. Our data is robust and extensive because our artificial intelligence (AI) creates a data point for every ten feet of road. 
For a 100-mile road network, your assessment would contain over 50,000 data points!
How can you view, analyze, and monitor all of that information to create more effective pavement management strategies? 
Some clients have existing processes for applying their assessment data, while others work with a RoadBotics by Michelin Enterprise Partner.
For either option, data is delivered in three ways:

On

RoadWay

, our interactive,GIS-enabled software platform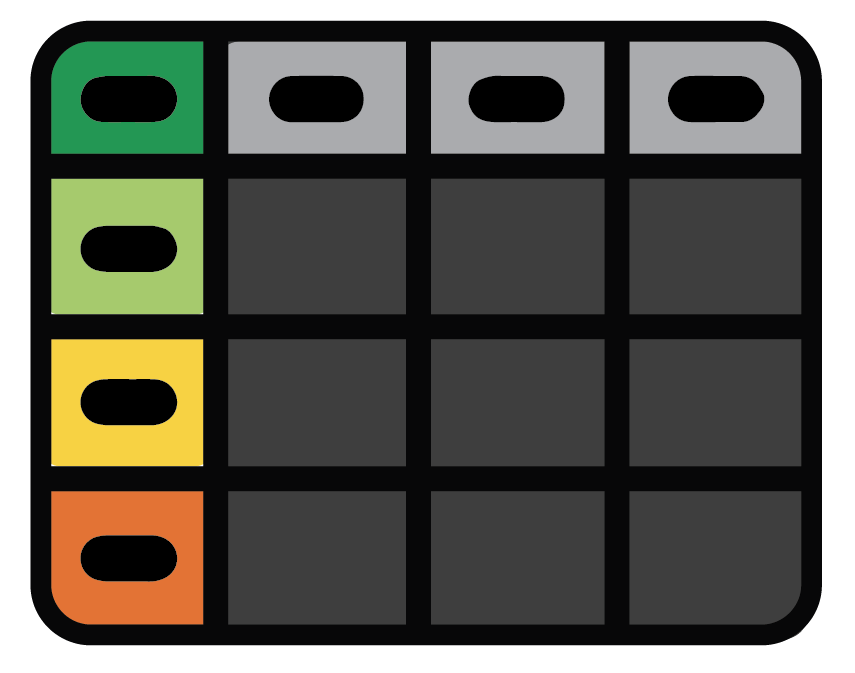 2. With comprehensive spreadsheets that include segment level data for road condition, location, street name, and length
In addition to exploring all three, we're highlighting one of our Enterprise Partner's applications of the data and how it offers added benefits for civil engineering firms looking to branch out into pavement maintenance.
RoadWay, RoadBotics by Michelin's proprietary GIS-enabled software platform, is the best way to view and access your pavement assessment data. It serves as a visual representation of spreadsheet and geospatial data, including the color-coded, objective ratings and road imagery for every ten feet. 
This granularity is vital to pavement management because it gives you the ability to pinpoint precise locations for maintenance and improvements.
Integrated features, such as the distance and areas tools, dynamic segmentation, and embedded maps make analyzing and sharing the assessment with your team easy.
RoadBotics by Michelin spreadsheet data can be used for quantitative analysis of your roads. The data is delivered in a CSV file and viewable in any spreadsheet software.
The file contains raw segment-level data and segment breakdown summary. Segments cover the length of a road from intersection to intersection, and longer roads are fractured into multiple segments.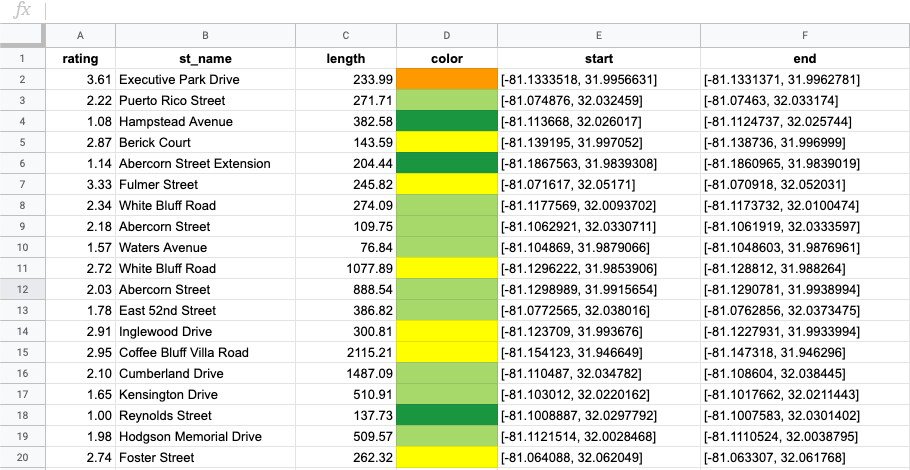 On the Segment Breakdown summary tab, your raw data is categorized by the segment's RoadBotics by Michelin pavement condition rating 1-5, with 1 being best and 5 being worst. The raw segment-level data includes that conditional rating, rating color, street name, length in feet, and GPS coordinates. 
Here are a few examples of how our clients use their spreadsheet data: 
Sort by a particular rating, then determine which segments and how many miles of road are eligible for rehabilitative approaches

Use the GPS coordinates to assess the road conditions for specific neighborhoods

Determine the amount of materials needed to repair a segment of road
Integrating Geospatial Data
Are you already using a GIS-based system for managing your road network? Integrating your data into an existing system allows your assessment data to complement your efforts. 
RoadBotics by Michelin will supply the geospatial data in a shapefile that can easily integrate with most GIS-enabled platforms. This data can supplement your existing data and can be overlaid to simplify the planning process.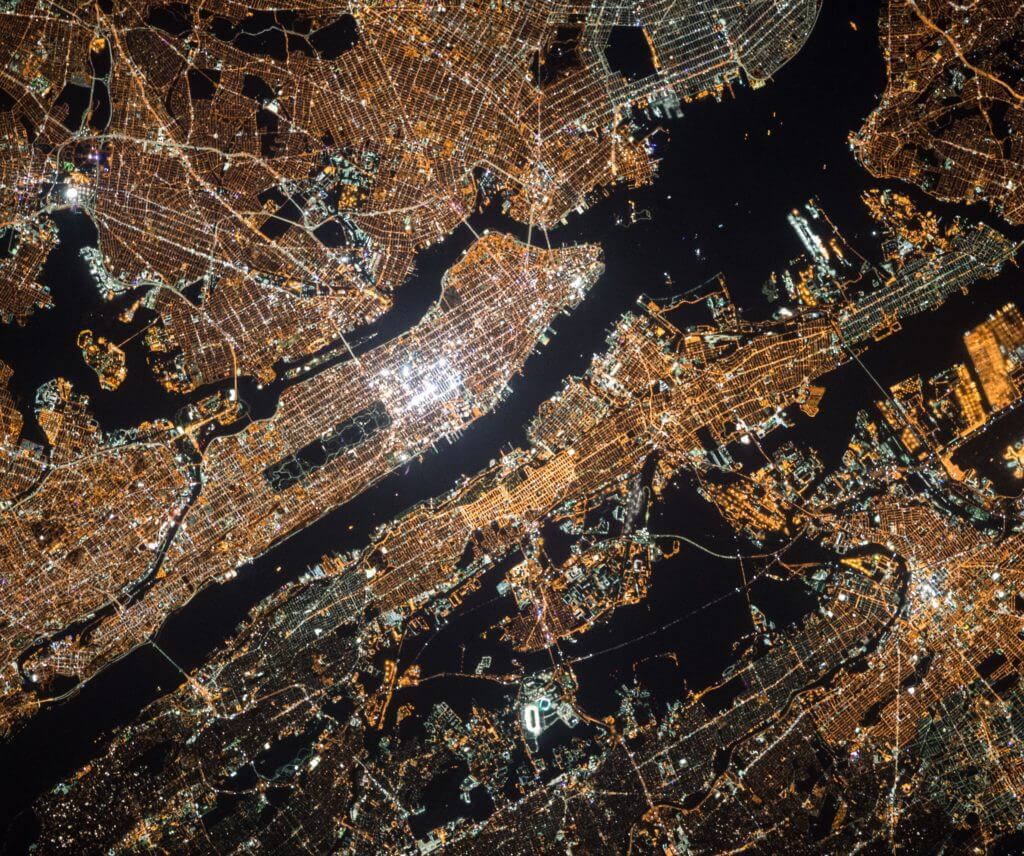 While there are many GIS-enabled platforms we can work with, we are quite familiar with the integration processes for: 
ArcGIS: ArcGIS is a mapping and location-based analytics platform created by Esri. Salem, MA published a paving map using ArcGIS for public use.
CSDatum: Web-based mapping application developed by CS Davidson. You can read all about our integration here. 
ManageMyRoads: Esri-based asset management software created by RoadBotics by Michelin' Enterprise Partner BETA, Inc.
Integrations in Action: BETA Group, Inc.
Pavement condition ratings are a crucial starting point for developing pavement management plans, and RoadBotics by Michelin pavement assessment data offers unique benefits to civil engineering firms:
The ability to quickly and easily collect data with a smartphone

Objective road condition ratings generated through our proprietary machine learning algorithm

Interactive platform for presentation and sharing

Spreadsheet data or integrations to work with existing processes and systems

One unified platform to collectively view all of your clients' road assessment data
BETA adopted RoadBotics by Michelin's pavement assessment technology because of the efficiency of data collection and quality of point-level pavement data every ten feet. BETA's engineers found the smartphone-based collection process to be significantly faster than their previous method.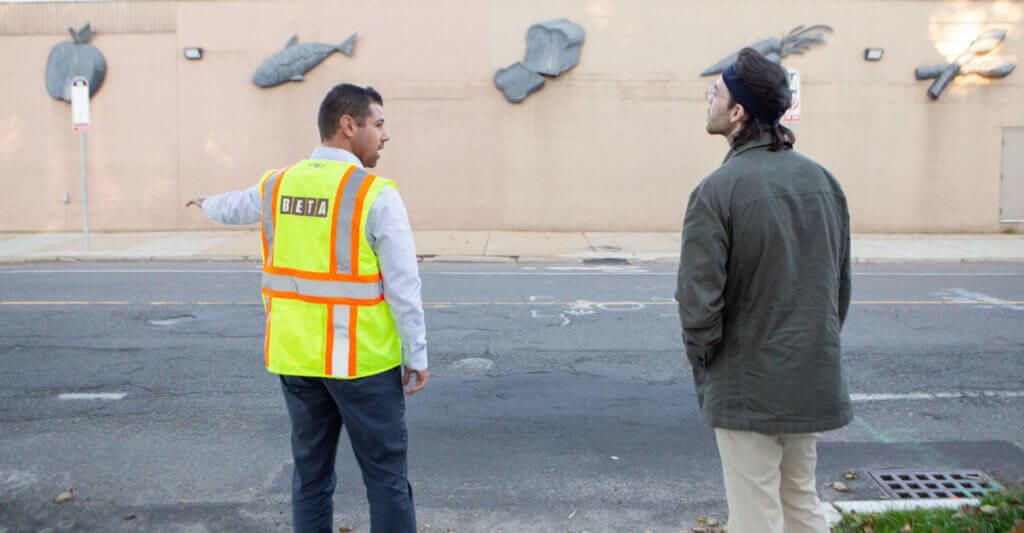 Also, they found the point-level data – which is generated by RoadBotics by Michelin's artificial intelligence (AI)-based analysis – to be a valuable addition to the road and asset information they provide.
The integration of RoadBotics by Michelin's pavement assessment data into ManageMyRoads is a straightforward process. Once RoadBotics by Michelin delivers the results, engineers perform a quality assurance check on the point-level ratings. RoadBotics by Michelin 1-5 ratings are converted to BETA's proprietary, industry-standard 0-100 rating scale. The converted data, along with RoadBotics by Michelin point-level road images and other available asset data sets, are uploaded into ManageMyRoads.
Previously, BETA delivered pavement management plans through tabular data sets and PDF maps. Now with the integration of RoadBotics by Michelin's data into the robust ManageMyRoads platform, their clients have a user-friendly and intuitive tool to visualize the results from the pavement assessment. This insight helps them plan where to make repairs and conduct maintenance, as well as what types of repairs are recommended for now and into the future.
A Win-Win for Engineering Firms
By offering objective road assessment as part of their suite of services, engineering firms are able to provide a more comprehensive experience for their clients while generating additional revenue. 
A win-win at its finest!
Are you interested in offering automated road assessments to your clients? Contact us to speak with a RoadBotics by Michelin Expert!