When people hear "Michelin," they think of high-end tires, and for good reason – Tire Business globally recognized Michelin as the number one tire brand in 2022.
The leading mobility company started 130 years ago when two brothers decided to bring a new perspective to the tire business. 
In 1889, André and Edouard Michelin took over their family's rubber factory. At the time, the French-based factory employed about 50 people, but it didn't take long for this small but mighty team to produce a vision for the future.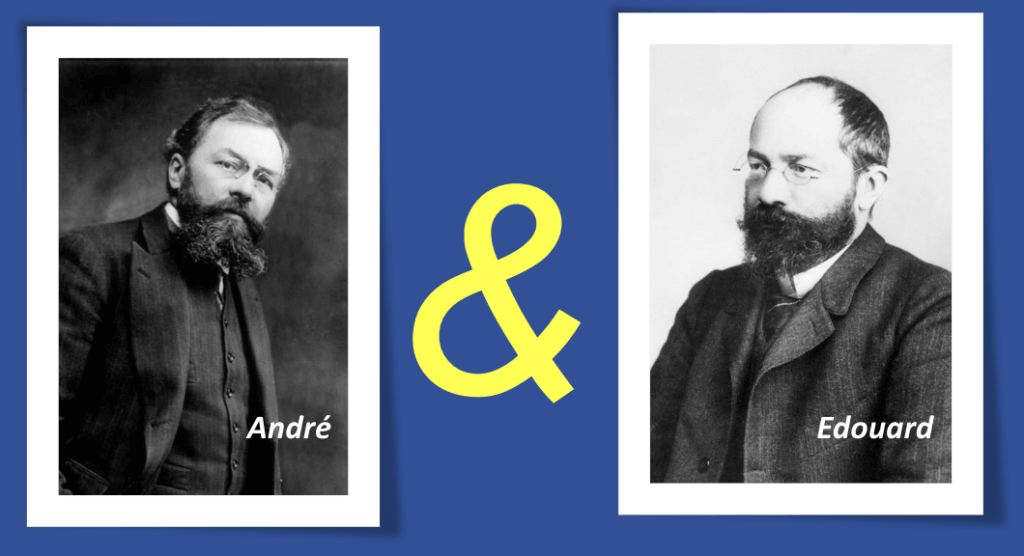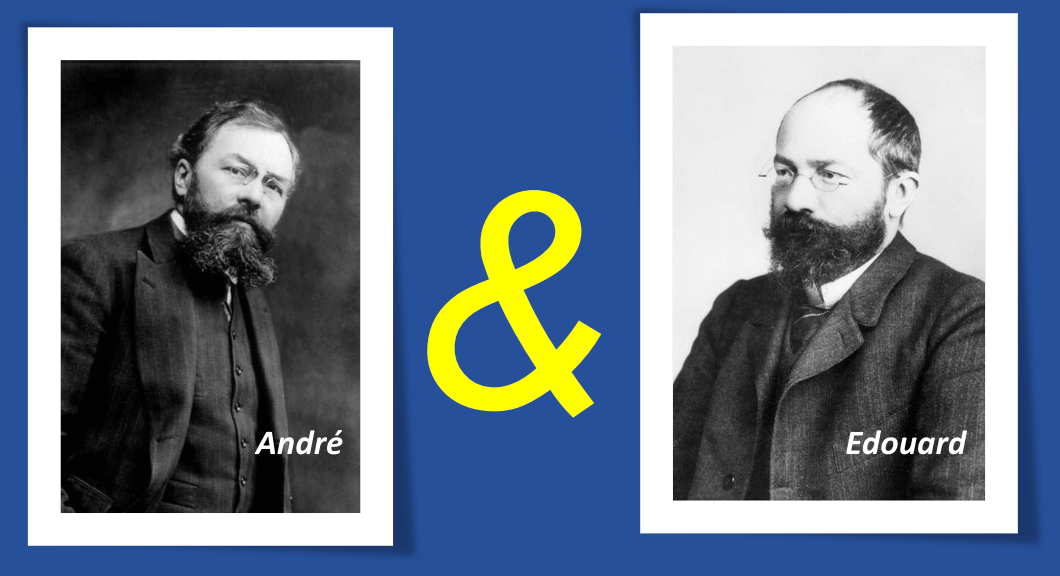 In just two years, they revealed the first tires using air pressure, or the pneumatic tire. Compared to other permanently glued tires, the pneumatic tire was the first pressurized tire that could be easily removed and replaced. 
Since these tires were so much easier to use, Michelin focused on expanding their market share. They promoted their competitive edge alongside other innovations of the time, like automobiles and railways. 
Michelin tires accumulated many "firsts." As of 1899, they were the first to accommodate travel at 100 km/h speeds and to make their way to the skies via airplanes.
By the 1920s, Michelin tires were also on trains and appeared in designs for the first wave of mass-produced, modern cars. 
Fast forward to 2022, and Michelin is still an innovation pioneer. Their "connected tires" use microchip technology to make fleet management safer and more efficient. Fleets with Michelin's connected tires can track metrics around mileage and receive regular updates about the health of every tire in a fleet. 
With a debut date in 2050, Michelin's latest innovation, the Vision Tire™, will be the world's first puncture-proof tire that can be repaired rather than replaced. 
With Michelin's overwhelming success in the tire industry, you might be wondering why they would acquire a technology company like RoadBotics by Michelin. 
Working Towards Better, Safer and Greener Infrastructure
Michelin group's core values revolve around a desire to positively impact people and the planet while maintaining profit. With global challenges like a pandemic and climate change, the bar for having a positive impact is rising rapidly. The need to better produce, use, and recycle our collective resources is clear.  


Technological advancements like artificial intelligence (AI) offer us new solutions to chronic issues. Instead of putting faith into a hunch, large amounts of data can be analyzed to confirm suspicions or provide new perspectives.  
Born out of this expertise, Michelin Mobility Intelligence (MMI) is an entity of the group that provides data services and solutions aimed at making infrastructure better, safer, and greener.  
MMI collects data from vehicles, tires, and driver experiences apps from Michelin group's activities or strategic partnerships and transforms them to build actionable insights for road managers. These insights help road managers to develop more efficient and cost-effective solutions (BETTER), improve road infrastructure safety management (SAFER), and to drive energy efficient and sustainable transformation (GREENER). 
Combining expertise in data analysis and driving behavior, the solutions go beyond crash data reports helping road managers to act before crashes occur.  Leveraging millions of connected drivers and using machine learning and proprietary algorithms, the technology allows road safety officials to detect, locate and assess atypical driving behaviors indicative of potential near miss incidents. 
In July 2022, RoadBotics joined the Michelin group in its mission to make our roads safer and longer lasting. After working with over 300 communities to provide objective insights into their road networks, we had been providing objective insights into the location and condition of roads for over six years. RoadBotics by Michelin was eager to lend a digital hand.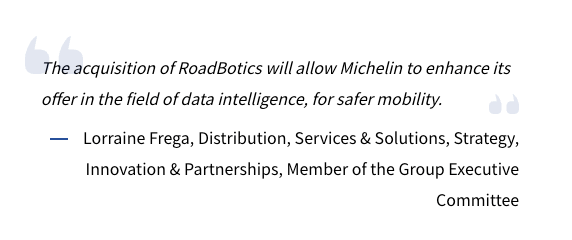 How will we work together to make roads safer and longer lasting?
Innovating in the 21st century is similar to how the Michelin brothers initially approached it in the late 1800s. It's all about using the latest technology to improve mobility.  
MMI helps communities work towards safer roads by objectively identifying potential high-risk areas. Using a unique network of connected drivers, MMI can pinpoint which road segments and intersections frequently have evidence of harsh braking, distracted driving, and speeding, indicative of near misses. MMI experts generate strategic recommendations about which locations would benefit the most from additional safety measures, enabling a preventative approach to road infrastructure management to reach Vision Zero. 
Armed with data from over 44 million drivers in the US, MMI realizes this is only one piece of the puzzle. To have a lasting impact on safety, factoring in the underlying quality of the roads is a logical next step.
Since 2017, RoadBotics by Michelin has been helping communities have better roads through automated assessments using artificial intelligence. Now, as a part of Michelin group, we have additional resources to draw from and the security of belonging to a legacy brand known worldwide for its superior products and service.  
And it doesn't stop there:
Since 2021, Michelin Connected Fleet has served 70,000 truck, bus, and coach fleet customers in 48 countries and supports 300 million trips each year with objective data.

Michelin's partnership with US-based data company Arity allows them to contribute to better infrastructure management by analyzing driving data from more than 100 million consumer connections.

Michelin is investing in electric vehicles through Watèa,

who provides fleet managers with a tailor-made solution to facilitate their transition to electric vehicles.