RoadBotics CEO and Co-Founder, Ben Schmidt, PhD, will be releasing "Mission Control: The Roadmap To Long-Term, Data-Driven Public Infrastructure" June 1, 2022. We're taking a look at an excerpt from each chapter, and how RoadBotics is putting those solutions into practice.
If you missed it, Mission Control's Chapter 5 excerpt covers why milestones are key to a successful mission.
How do you tie your overarching mission to your milestones, and ultimately track success?
Through metrics! 
To set metrics that matter, it's helpful to understand a few key points. Mission Control author and RoadBotics CEO and Co-Founder, Ben Schmidt, PhD, elaborates on these key points in the following excerpt: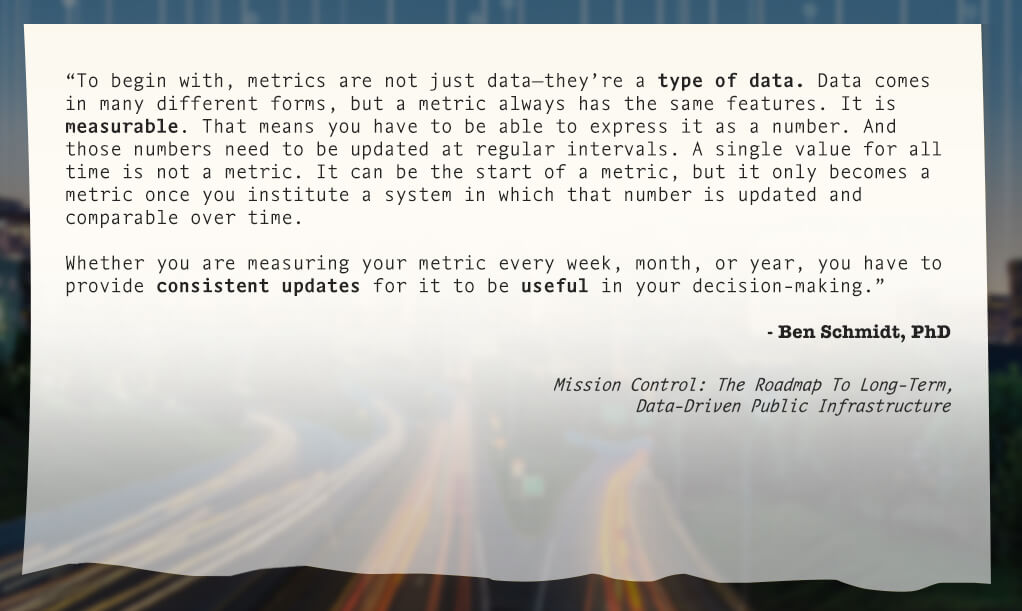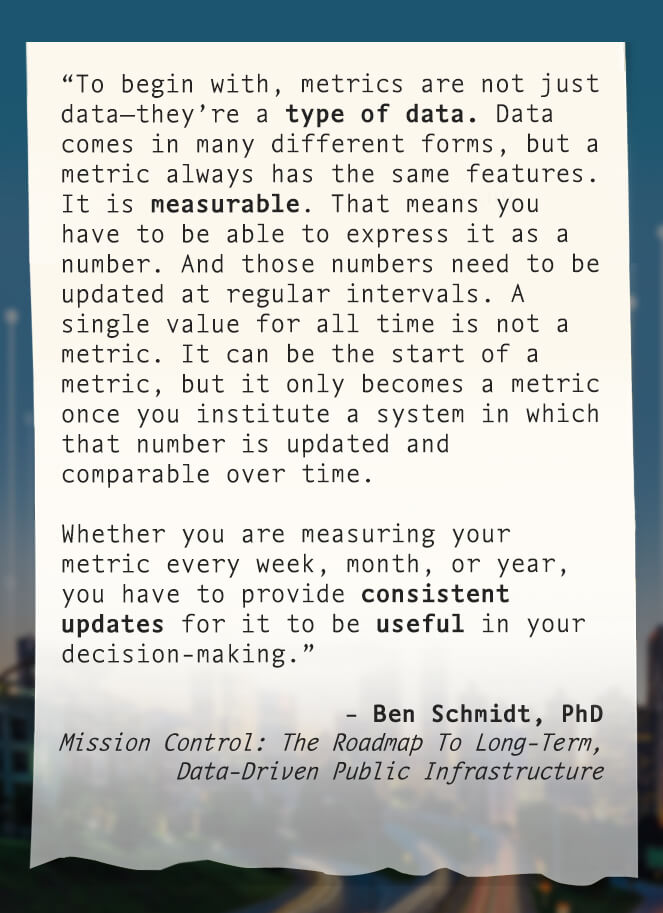 If a city has done an automated road assessment with RoadBotics, one metric they can use to easily track the improvement of their roads over time is their Road Network Score.
Peters Township, a RoadBotics' client near Pittsburgh, PA, used their Road Network Score to improve their road condition by tracking the effectiveness of their maintenance efforts, like applying pavement rejuvenation treatments.

After collecting image data for their roads using a smartphone, their network was analyzed by RoadBotics proprietary machine learning algorithm to produce an interactive, color-coded map of objective ratings on a scale of 1-5 – 1 being the roads in the best condition and 5 being the roads in the worst. 
This interactive map gave them access to objective data at 3 distinct levels: Points, Segments, and Network. 
Point-level data is generated for every 10 feet of road and provides a time and location stamped image to accompany the 1-5 rating, whereas segment-level data consists of an average of all point-level data on a road. To arrive at a Road Network Score, the point-level data are aggregated to create a rating for the network in its entirety and is most useful in understanding the network's overall condition. 
With Point and Segment data, Peters Township was able to quickly understand where they could specifically improve their network for citizens, whether by investing in preventative maintenance or deciding to repave. By comparing their Road Network score year over year, they could gauge the overall success of their ongoing plans. Having a bird's eye metric like Road Network Score let them tie their mission of "good roads" to their maintenance milestones.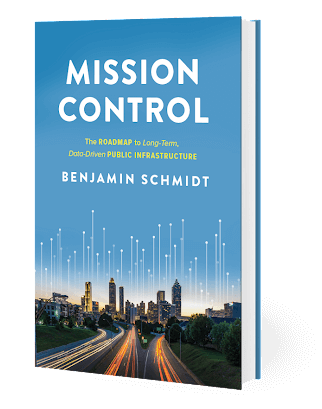 Incorporating technology like RoadBotics to provide an objective look at the big picture, with time-stamped and location-tagged visual data, is an easy way to start setting milestones on the way to fulfilling your mission. 
RoadBotics CEO + Co-founder, Ben Schmidt, PhD, set out to provide an easier way to show rather than tell road managers about the benefits of data-driven decisions in his upcoming publication, Mission Control: The Roadmap To Long-Term, Data-Driven Public Infrastructure. 
Visit the book webpage to learn more, or download the Press Kit here.

Are you eager to improve your ability to make data-driven decisions for your community?  Submit the form below to be the first to know when the book goes on sale in June 1, 2022!