RoadBotics's online road assessment product, RoadWay, is used by 250+ communities around the world.
While its primary function is to display the results of your road assessment, our creative clients have come up with some unique ways they're using RoadWay.
This Unique Use Case shows how a small tax increase can equal a large impact on local infrastructure.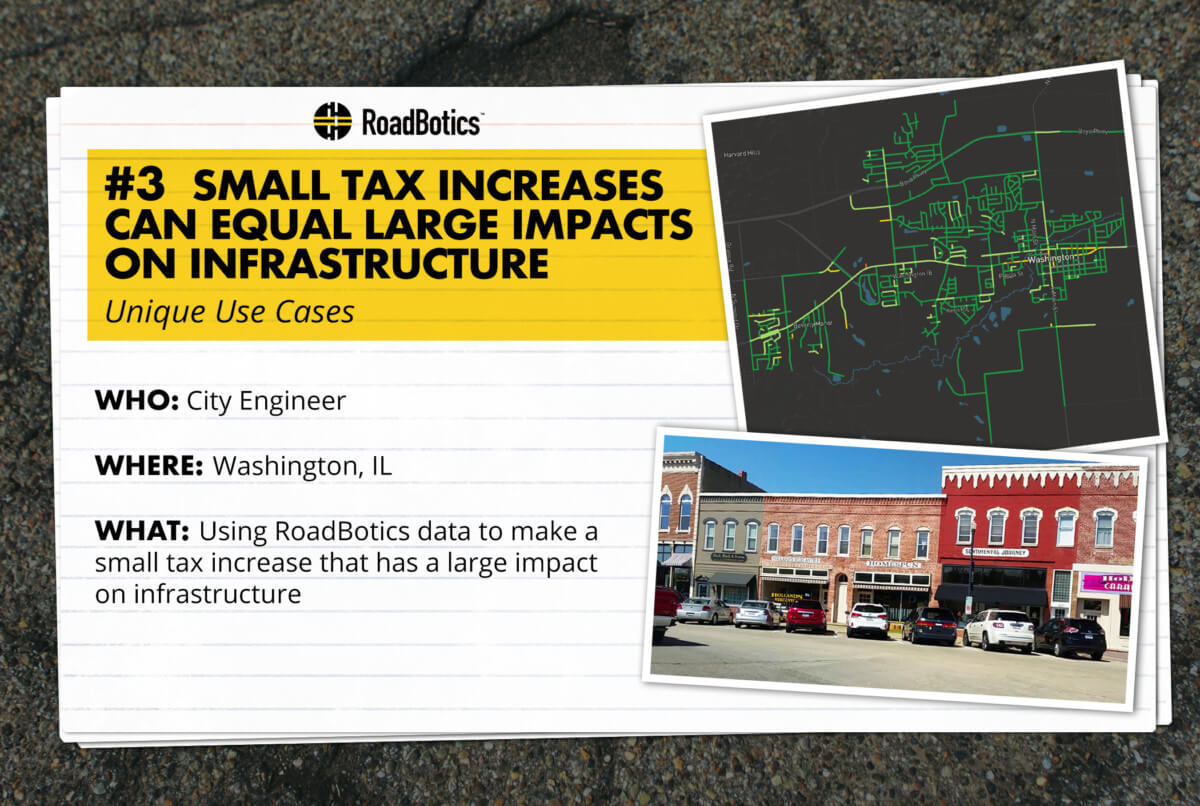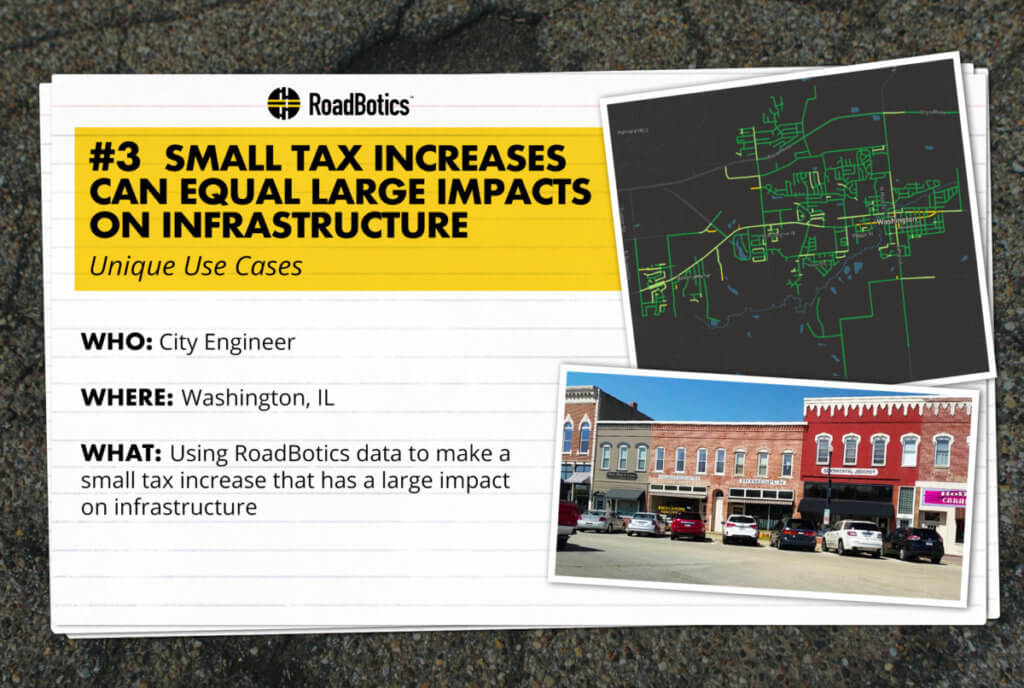 Washington is a town nestled to the East of Peoria in central Illinois. With a population of just over 15,000, it is the quintessential mid-western town. In 2017, Public Works officials decided to adopt RoadBotics pavement assessment for their 75-mile centerline road network. 
The Washington City Engineer at the time saw immense value in the objective data. "It's a very targeted lean and mean road condition delivery package," he said. "[It] has made us more targeted and given us more objective data than ever." 
Subsequently, he presented the objective data to City Council in order to secure a half-percent home rule sales tax increase from 8% to 8.5%. This increase was approved by a majority and resulted in an additional $800,000 revenue earmarked for infrastructure repairs. That revenue provided funding for the current regional road inventory and road maintenance projects- a small increase that had a large impact on Washington's local infrastructure!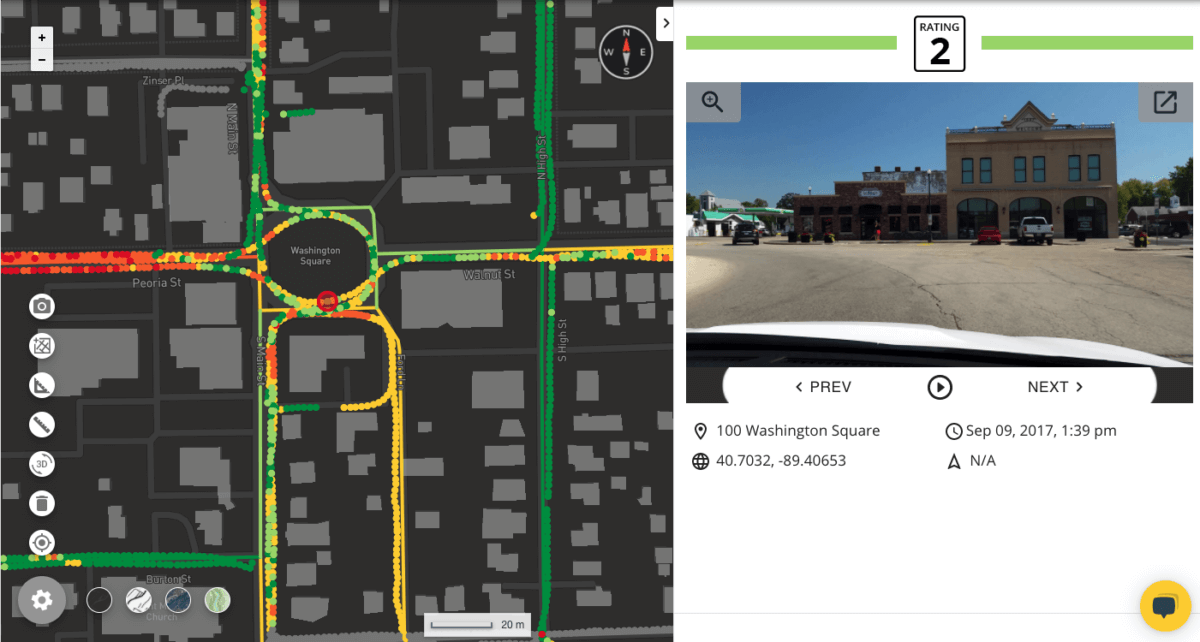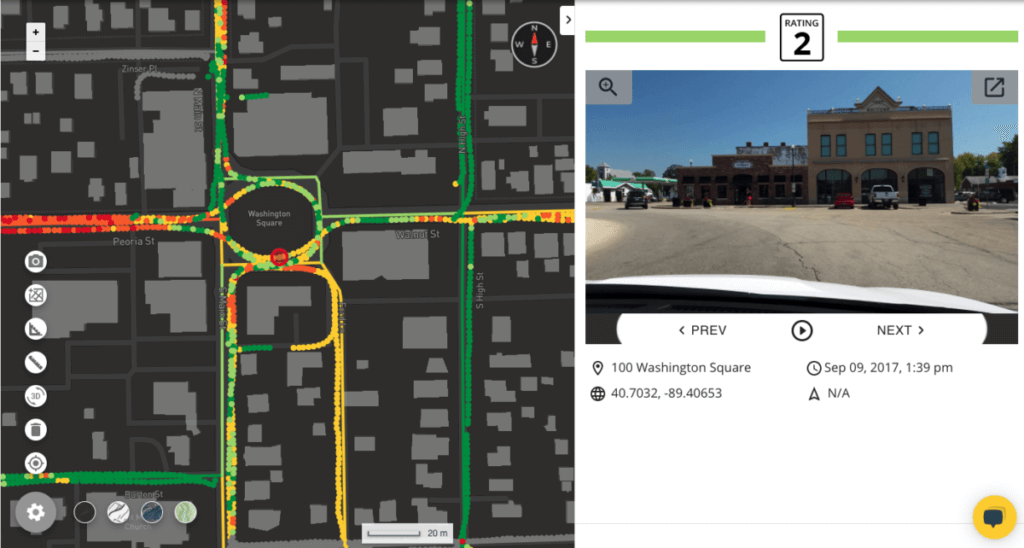 This pavement project is different from their previous pavement management approaches. With the objective data, they began thinking about the bigger picture, calculating costs, and considering maintenance approaches across the whole network instead of street by street.
"We were doing half-mile long segments using subjective data," he explained. "And now with RoadBotics, we are data-driven. We have more objective data at 10-foot intervals."
"And now with RoadBotics, we are data-driven. We have more objective data at 10-foot intervals."
The data is assisting the city in selecting future road reconstructions, particularly on the east side of the city. It has also helped them determine if a sealcoat may be feasible or if a full reconstruction is necessary.
In addition to using the data to fund infrastructure projects, the Washington City Engineer also used the RoadWay map and images for public works committee meetings. He finds extraordinary value in the images, even using them to address resident's complaints. 
Have you used RoadWay's assessment data to increase your infrastructure budget or secure a tax increase? Is there another unique situation you've used RoadWay for in the past?
If so, we'd love to hear about it — reach out to your contact at RoadBotics or email info@roadbotics.com