RoadBotics CEO and Co-Founder, Ben Schmidt, PhD, will be releasing "Mission Control: The Roadmap To Long-Term, Data-Driven Public Infrastructure" June 1, 2022. We're taking a look at an excerpt from each chapter, and how RoadBotics is putting those solutions into practice. 
If you missed it, Mission Control's Chapter 6 excerpt demonstrates how to create metrics that matter.
The M3 Roadmap to Data- Driven Public Infrastructure

We've covered why you would want to establish a strong mission, why milestones should be set for success, and what metrics should be measured to gauge your progress.  
But what happens when communication is bad, you're short staffed, and your citizens are complaining? In other words, real life situations. 
In Chapter 7, Mission Control author and RoadBotics CEO and Co-Founder, Ben Schmidt, PhD, helps us find a "mission in the mess", as highlighted in this excerpt: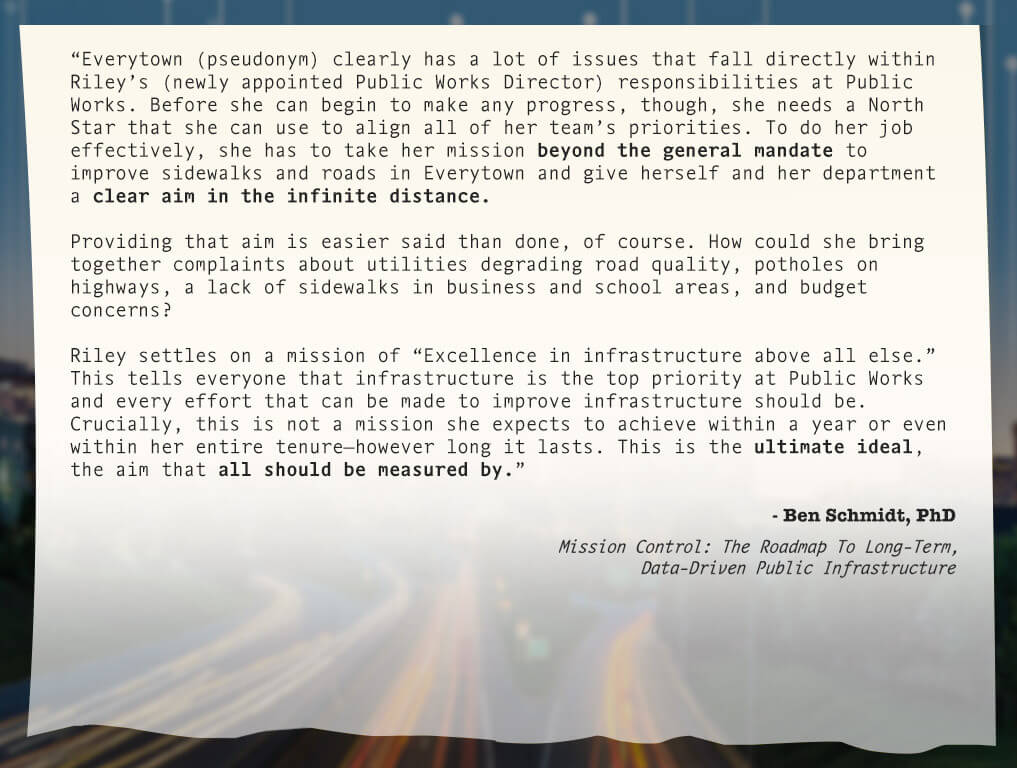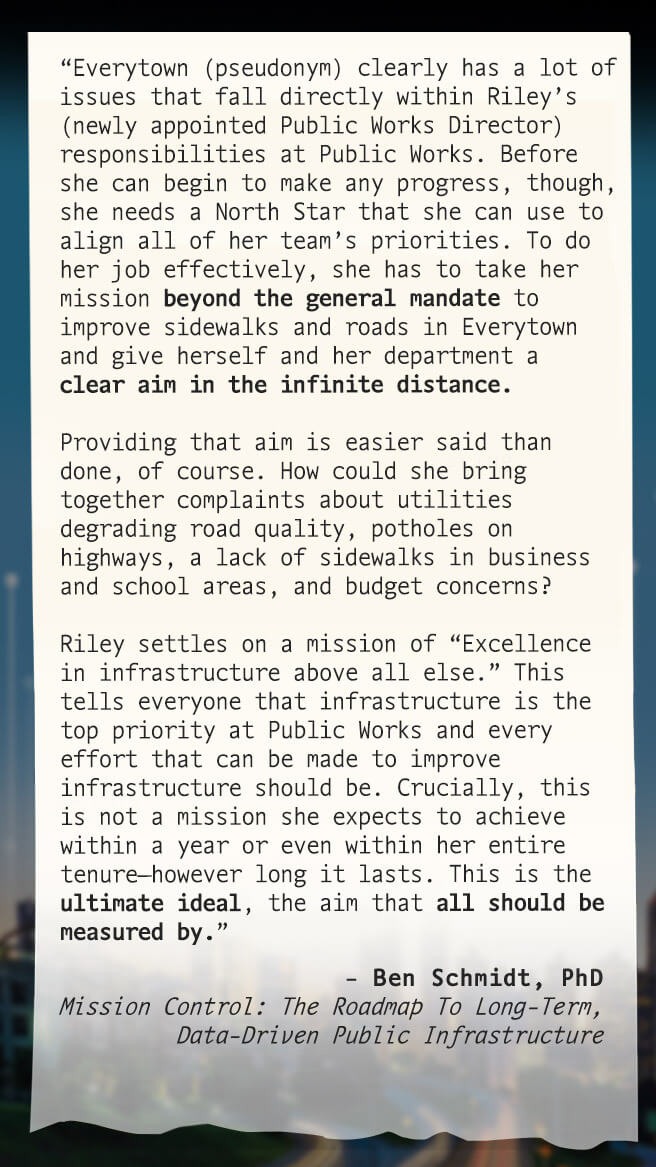 Making progress in the face of multiple responsibilities and limitations can get messy, and developing plans for a future beyond just a few years is daunting. 
Being able to discern which tools and processes will work for your team and removing those that are no longer beneficial enables you to find a "mission in the mess" and achieve long-term goals. 
By supporting your mission with the right technology, you can tame the mess and move towards meeting your mission. What are some of these new technology solutions helping communities meet their missions?
Hayes.Ai is reimagining the way sewer systems are maintained. By using artificial intelligence to analyze video data, they are capable of detecting damages within the sewer systems and can make recommendations for strategic repairs instantly.
AREAS Fog developed a unique, electrostatically charged drone for evaluating bridges. These drones operate without interfering with other useful electrical systems like GPS or liDAR. Drone-based bridge inspections reduce much of the risk that comes with manual inspections and provide high-quality location and condition data from which governments can make plans for maintenance.
Aeriosense Technologies is making it safer to conduct powerline inspections. They use Unmanned Aerial Vehicles (UAV), like drones, to gather images of these hard-to-reach assets in a way that is much safer and quicker than manual inspections.
RoadBotics is empowering communities to transform their visual data into meaningful maps with artificial intelligence. Users can quickly collect road data with a smartphone. Artificial intelligence generates objective 1-5 ratings (1 being the best; 5 being the worst) for each 10-foot section of road on an interactive, color-coded map.
These solutions all provide objective data, allow for necessary updates, and can help reduce the time, labor, and resources needed to maintain communities – empowering those in charge to eliminate some of the mess that might surround their mission.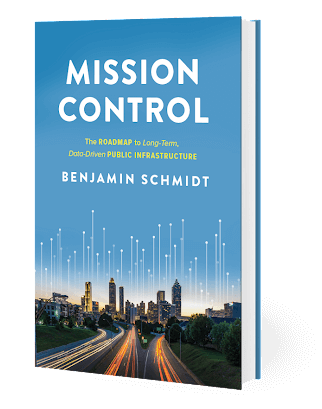 Incorporating technology like RoadBotics to provide an objective look at the big picture, with time-stamped and location-tagged visual data, is an easy way to start setting milestones on the way to fulfilling your mission. 
RoadBotics CEO + Co-founder, Ben Schmidt, PhD, set out to provide an easier way to show rather than tell road managers about the benefits of data-driven decisions in his upcoming publication, Mission Control: The Roadmap To Long-Term, Data-Driven Public Infrastructure. 
Visit the book webpage to learn more, or download the Press Kit here.

Are you eager to improve your ability to make data-driven decisions for your community?  Submit the form below to be the first to know when the book goes on sale in June 1, 2022!